Accubath™ Heated Quartz Process Tank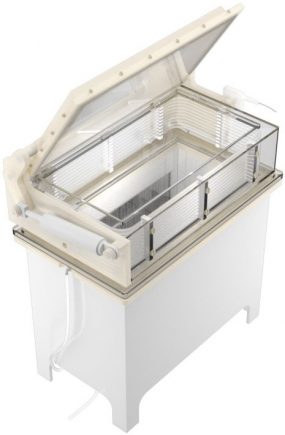 Overview
Imtec has set the global standard for both static and recirculating heated quartz baths. Our complete line of Accubath systems deliver unsurpassed process performance, reliability, and safety in wet systems throughout the world. Our commitment to engineering excellence has consistently given Imtec's customers exceptionally dependable and advanced process equipment. The Accubath combines the highest quality materials and engineering designs to create a quartz bath that enhances your process.
Our quartz tanks are suitable for use in processes using quartz-compatible chemistries up to 190°C. Quartz is known for its durability and non-reactivity to a variety of chemistries. We employ experienced quartz welders and machinists to create high purity, uniform tanks in a variety of standard and custom sizes, with the ability to add high-strength welded quartz inlets and probe holders.
For the most rigorous processes, we offer our patented AquaSeal technology, which protects against the leading cause of vessel failure. It incorporates a dual sealing feature by directing DI water to flow over the RTV seal area, cooling it while forming a barrier against chemical fumes. Please see our material compatibility chart to find out which material works best for your process.
Static Quartz Heated Tanks
High Operating Temperatures – Operates up to 190° and can be used with any quartz compatible chemistries.
Flexibility – Variety of standard and custom sizes available. Multiple drain configurations and a complete line of accessories allow for easy integration.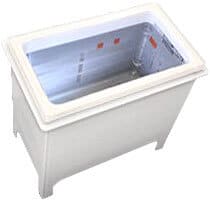 Static Quartz Heated Tank
Recirculating Quartz Heated Tanks
Small Footprint – Vertically built saving approximately 3 inches of wet-system linear deck space per vessel.
High Particle Removal Efficiency – Raised 360° weir with scalloped 45° knife edge rim pulls particles over the weir edge.
Better Performance – Sump designed to reduce low liquid level heater problems and to prevent recirculating pump air ingestion.
Longer Life – AquaSeal high-strength welded quartz inlet and outlet ports, and raised weir design ensures superior vessel life.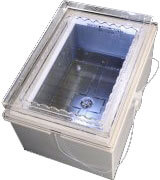 Quartz Recirculating Heated Tank
Specifications
General specifications apply to Accubath Quartz heated baths. Model specific information is supplied with each bath. Please review material compatibility.
Model

Accubath Heated
Quartz Process Tank

Tank Material

Virgin Annealed quartz, firepolished

Housing Material

Fire Retardant Polypropylene

Housing Material,
FM 4910 Optional

PVDF

Over-temperature
sensor 1

Two (2) J-type thermocouples

Over-temperature
sensor 2

Thermostatic snap switch
(opens at 210°C +/- 7°C)

Heater Elements

Low watt density Inconel foil

Insulation

High Density Aluminum Silicate

Max. operating
temperature

190°C

Operating voltage

Model dependent

Limited Warranty

One Year standard
or 30 months for
tanks with Aquaseal