Quick Dump Rinse (QDR) Valve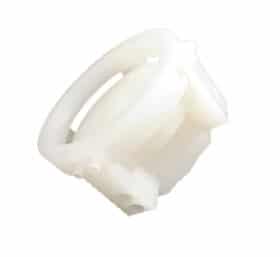 Overview
The Imtec Quick Dump Rinse (QDR) valve is an air open/close valve. Quality tested to 1.3+ million cycles. While it looks similar to other quick dump valves, it has some important differences. The first is that it utilizes Glyd rings instead of O-rings. Glyd rings do not need to be lubed and reduce the chance of stiction, which is common to O-rings.
Secondly, the valve is attached to the mounting ring via shoulder screws instead of having a large thread that can easily cross thread and make the valve useless. A domed dump door was added to shed any fluid left after a quick dump, improving process performance. The valve is available to mount to PVDF, NPP, or PFA tanks.
Imtec's years of experience in the industry means that we know what features can save cost and improve efficiency. Looks can be deceiving; trust Imtec to offer you products that work better and last.
Get Quote
Imtec Distributors
PFA tank, dump door, and mounting ring with polypro valve body
Importance of Quick Dump Rinsing in Semiconductor Manufacturing
After chemical treatment of semiconductor wafers for cleaning, etching or stripping applications, or MEMS device KOH/HF etching applications, the process chemicals should be completely removed from the surface in order to stop the chemical reaction and take away chemical residues. Chemistry is still covering the wafer surface, in particular within recess structures of the topology (moats, trenches) resulting in continuation of the chemical process outside the bath. This is critical for etch applications, since over-etching might occur destroying the pattern and causing significant yield loss. Custom plastic tanks, PFA tanks are the common choices for quick dump rinsing steps.
Objectives of effective rinsing processes:
To quickly and effectively stop the chemical reaction on the surface after the wafers have been removed from the bath.
To fully remove chemical and contaminant residues from the wafer, which are carried over from the chemical bath without ANY impact on the wafer surface.
To take off particulates from the wafer before the next chemical step or drying.
Semiconductor rinse processes:
Three basic types of rinsing are used in semiconductor manufacturing, depending on the tool type and application.
Overflow rinsing: immersion of wafers into a rinse bath with continuous introduction of water from the bottom of the tank and overflowing at the top rim.
Spray rinsing: Dispense of ultra pure water through spray nozzles directly onto the wafer at variable flow, pressure or temperature in a single pass mode (standard process of single wafer equipment)
Quick dump rinsing: a combination of the above for wet benches consisting of placing the wafer into an overflowing rinse tank, dump the ultra pure water in a very fast manner and refill the tank by spray and /or fill from the bottom.
Double-acting air-close/air-open
Optional hard seat or O-Ring seat seal, dump door to mounting ring
Minimum 35 psi to operate
Large opening for ultra-fast draining
Easy maintenance, valve body replaceable
Door & Ring materials Polypropylene (NPP), PVDF, or PFA
Model

Size

Door &
Ring Material

Min/Max
Pressure

Seat

QDRV-P4-H

4 in

PVDF

35/80 psi

Hard

QDRV-PP4-H

4 in

Polypropylene

35/80 psi

Hard

QDRV-T4-H

4 in

PFA

35/80 psi

Hard

QDRV-P4-S

4 in

PVDF

35/80 psi

O-Ring

QDRV-PP4-S

4 in

Polypropylene

35/80 psi

O-Ring

QDRV-T4-S

4 in

PFA

35/80 psi

O-Ring
*Seal o-rings sold separately. O-ring seals are offered for those who require a leak free seal which a hard seat can not provide.
Available Materials: Viton, EPDM, Kalrez, Allchem
Gapless Transducer offers better process uniformity in the tank
Transducers with tightly matched crystals wired together in parallel for small potential difference between crystals
Reliable components
Extensive 36 month warranty
Cassette & cassette-less designs for up to 300 mm wafers & larger substrates
High watt density
Operates at 70°C+
Field replaceable transducer arrays
Accumeg™ Megasonic Systems