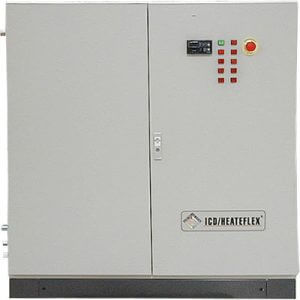 概述
Poseidon™ Stainless Steel Ultra-Pure Fluid Heater System from Heateflex offers a unique option for manufacturing operations requiring a stainless steel flow path for Deionized Water, either for use in parts cleaning or in other high-purity applications. Design features include electro-polished 316L stainless steel construction coupled with a patented design that incorporates patented tri-clamp sanitary fittings and high-performance heating modules.
Plug & Play
Packaged into one cabinet, the Poseidon is for processes that need the heater and controller centrally located. This allows the operator to simply connect the power and plumb the water. Furthermore, all other connections and interfaces are internal and complete; making this a true plug and play solution.
Safety Built-In
Poseidon features a number of safeties. First, the heater is designed to CE and SEMI S2-0200 compliance, and the internal heating elements are also built to UL 499 listed. Moreover, standard safeties include an over-temperature and process thermocouple to maintain safe heating temperatures, as well as consistency and accuracy in fluid temperature.
强调
Poseidon heaters are available in various outputs ranging from 24kW to 144kW and voltages from 208 to 480 VAC (3-phase). Operating temperature is 203º F (95º C) and operating pressure is 80 psi at 95º C.
316L stainless steel electropolishedand and passivated wetted surfaces
Patented Tri-Clover sanitary fitting eliminates threads to reduce particle entrapment and potential bacteria growth
Compact, NEMA-rated enclosure for stainless Steel heating modules with an accurate temperature control and reliable system safeties
PID temperature controller in a powder coated & NEMA-rated external switching chassis with excellent temperature stability of +/- 1°C
Easy installation with a plug-and-play system
Flexible solutions offering a variety of power requirements, models, and options
No N2 purge required
Process Thermocouple
Over-Temperature Thermocouple
Emergency-Off to Heater Power (EMO)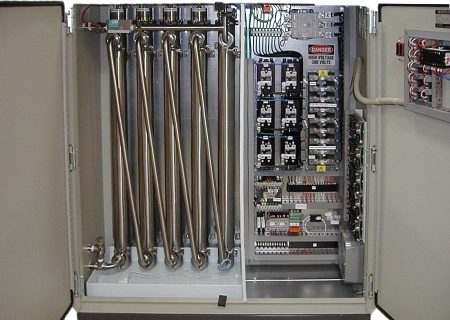 Poseidon™ stainless steel ultra-pure fluid heater system internal components.
| Model | kW | Voltage | Dimensions |
| --- | --- | --- | --- |
| SSDI24-3 | 24 | 240/480 | 51 x 39 x 12 inches |
| SSDI48-3 | 48 | 240/480 | 51 x 39 x 12 inches |
| SSDI72-3 | 72 | 240/480 | 51 x 39 x 12 inches |
| SSDI96-3 | 96 | 480 | 51 x 39 x 12 inches |
| SSDI120-3 | 120 | 480 | 51 x 48 x 12 inches |
| SSDI144-3 | 144 | 480 | 51 x 48 x 12 inches |
| Model | kW | Voltage | Dimensions |
*Low VAC: 200-240 VAC, 3-Phase · High VAC: 380-480 VAC, 3-Phase
| | |
| --- | --- |
| Heater | Poseidon™ Stainless Steel Ultra-Pure Fluid Heater |
| Wetted Surfaces | 316L Stainless Steel Electropolish |
| Sizes | 24kW to 144kW (Dependent on Customer Voltage) |
| Voltages | 208VAC to 480VAC/3ph (Dependent on Wattage) |
| Temperature | 203°F (95°C) |
| Temperature Accuracy | +/- 1° C (Contingent on Customer's Facilitation) |
| Pressure | 80PSIG @ 95°C |
Get Quote
Heateflex Distributors