Accubath™ Sapphire Wet Etching High-Temperature Process Tanks
概述
XE-Series for Sapphire Etching (Al2O3) & Beyond – For safe and reliable heating up to 300°C the Accubath™ XE was designed with Sapphire etching in mind but we know there are other processes that will benefit from the increased chemical reactivity that higher temperatures provide. Processes that were previously thought to be too slow due to temperature limitations may now be practical.
Designed to Take the Heat – The liquid in the Accubath Xe tank comes in contact with nothing but high purity quartz. No PTFE connections, sensors, or any other parts are used in the process area. Even the built in automated lid is quartz. For reliability, a special version of IMTEC's patented Aquaseal was developed to prevent a failure of the critical seal material that isolates the heater components from the environment. Even the housing is special, utilizing ECTFE for its superior temperature and chemical compatibility as well as special construction techniques to isolate the heat inside.
Auxiliary Modules Make it Complete – No drain valve works at these temperatures so a quartz aspirator was designed and built in IMTEC's quartz fabrication facility to remove the chemistry without having to wait for it to cool. The aspirator drains the tank to a cool-down module below the tank. The cool down module has quartz cooling coils to assist in lowering the chemistry temperature quickly. The modules working together create a system that addresses all the challenges of working with extreme temperature chemistries allowing you the freedom to experiment with processes previously not possible.
Inverted Quartz Autolid keeps condensate inside the tank
Quartz Cooling Coils minimize the vapor cloud near the lid
Patented Aquaseal lowers flange temperature and protects critical quartz to plastic sealant
Quartz air operated Aspirator effectively drains the process chamber even at max operating temperature
Quartz RTD wells protect the temp sensor and allow accurate temperature readings
Quartz Cool Down Box contains drained hot chemistry until it is safe for house facilities
Hydraulically Actuated Cylinder for smooth control of lid operation
Super high-density Aluminum Silicate Insulation keeps the heat in
Quartz inner chamber with heavy gauge Inconel Heating element
Quartz Locator Plate designed to hold your specified carrier
ECTFE Housing for superior temperature and chemical compatibility
Quartz Secondary Containment Tank holds hot liquid in case of tank breach.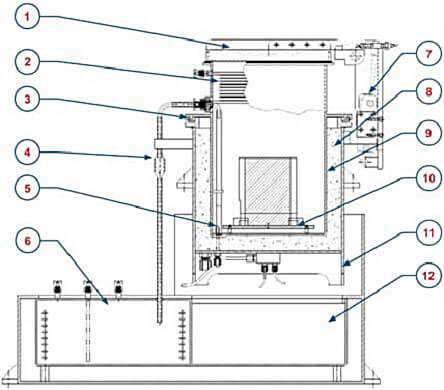 Model

Accubath Sapphire
Wet Etch Tank

Tank Material

Virgin Annealed
Quartz, Firepolished

Housing Material,
Standard

ECTFE

Over-Temperature
Sensor 1

Two RTD Probes

Over-Temperature
Sensor 2

(Cool Down Tank)
One RTD Probe

Heater Elements

High Watt Density
Inconel Foil

Insulation

High Density
Aluminum Silicate

Max. Operating
Temperature

300°C

Operating voltage

Model Dependent

Limited Warranty

One Year

Sizes

Model Dependent