Accuheat® Quartz In-Line Gas Heaters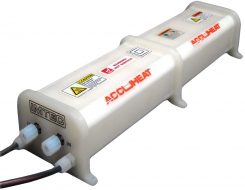 Overview
As sophistication and demand for process purity increases throughout industries, equipment manufacturers must pave new paths, to provide the tools needed to reach the next technology node. IMTEC understands and demonstrates this core value throughout its product lines. With growing demand for heated high purity gasses such as heating nitrogen gas.
With technology and know how gained from over two decades of manufacturing quartz inline fluid heaters. IMTEC has designed the Accuheat G-Series to be extremely robust, efficient, and pure. With quartz being the sole material to come in contact with gasses being heated you can be sure that there are no particle adders or contaminates.
Extremely reliable, heavy gauge heater elements are affixed to the outer diameter of each quartz tube along with over temperature sensors, creating a truly robust design. The Accuheat G-Series are available in many sizes (single or dual tube) and wattages, contact us for more details.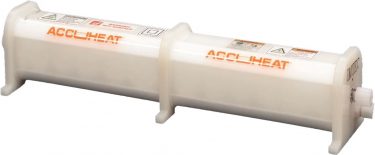 Ultra high purity gas heating is a challenge. Metals can break down and/or shed particulate, while other materials are inefficient at heat transfer. Imtec has solved this challenge using a unique tube-in-tube design that provides for excellent heat transfer in a ultra-pure, non-metallic flow path. The tube-in-tube design creates a .060" wide flow path that creates intimate contact between the gasses and heated surfaces. This makes a dramatic improvement in efficiency when compared to other designs.

High Flow Rates
The G-series heaters are available in single or dual tube configurations allowing for a wide range of temperature/flow applications. A dual tube configuration allows for high flows, almost a doubling of a single tube configuration.
Flexible Control
Gas heating applications can vary dramatically making the control tricky. The Accuheat G-series offer the ability to monitor/control heater element temp, which can be useful for low flow, intermittent applications.
All quartz gas flow path, metal free path
Double quartz tube construction for efficient heat transfer
FM-4910 Compliant PVDF Housing
Power modulator protects against no-flow conditions
RTD provided for monitoring internal gas temperature
Over-Temperature thermocouple attached to heater element provided for redundant protection
Over-Temperature snap switch trips if heater is out of control
Power modulator monitors element temp to reduce excess heat inside housing
Compatible Gases
Accuheat in-line gas heater are designed for heating a wide range of gases.
Ammonia (NH3)
Helium (He)
Argon (Ar)
Hydrogen (H2)
Arsine (AsH3)
Hydrogen Bromide (HBr)
Boron Trichloride (BCl3)
Hydrogen Chloride (HCl)
Carbon Dioxide (CO2)
Nitrogen Heater (N2)
Carbon Monoxide (CO)
Chlorine (Cl2)
Nitrous Oxide (N2O)
Oxygen (O2)
Disilane (Si2H6)
Sulfur Dioxide (SO2)
Methylsilane (SiH3CH3)
And more…
Heater

Accuheat Quartz In-line Gas Heater

Models

G3500 & G7000

Wattages

Single Tube - 3.0 KW @ 208V or 4.0 KW @ 240V
Dual Tube - 6.0 KW @ 208V or 8.0 KW @ 240V
*Wattage's dependent on voltages, 208 & 240 VAC available.

Max. Heater Element Operating Temp

300ºC

Max. Gas Temp

Flow Dependent

Over-Temperature Sensors

(1) J-Type T/C, (1) Thermostatic Snap Switch

Heater Temperature Sensors

(2) J-Type Thermocouples

Connection Type

1/2-in Flared Stem with Carbon Filled Nut

Power Cord

10 Foot PFA Conduit

Dimensions

G3500 (31.0x6.5x5.0"H) G7000 (31.0x9.0x5.0"H)