Fluidix® 蒸汽动力去离子(DI)热水器系统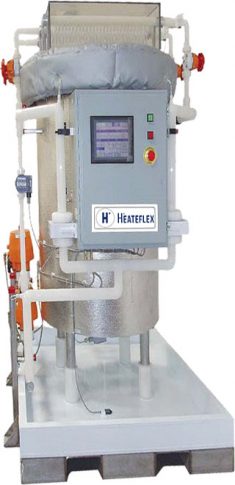 Overview
Fluidix® 蒸汽动力去离子(DI)热水器系统 from Heateflex offer the semiconductor industry a low-cost alternative to using electricity to heat large volumes of DI water. We field test all heaters, and verify them for longevity and reliability. PVDF/PFA wetted parts in the Fluidix ensure the highest levels of DI water purity. Uniform process temperatures are ensured via an operator-controlled PLC/touchscreen interface.
Industry-Leading Reliability
Since the first Fluidix system was installed in 1982, this product has heated more than 400 million gallons of DI water annually throughout the semiconductor industry.
MORE THAN 400 MILLION GALLONS OF DI WATER HEATED ANNUALLY, AND COUNTING!
Safety Built-In
Fluidix® heaters incorporate a number of safety features.  For example, on the steam side of the system there's an over-temperature Resistance Temperature Detector (RTD). On the process side of the Fluidix, there are safeties or monitors for over-temperature, process low-pressure, and leak detection.  And, last by not least, this heater includes a pressure relief valve and an auto-isolation feature with a cold bypass.
Highlights
Fluidix® models are available in sizes ranging from 500,000 BTU/hour to 3,000,000 BTU/hour, or approximately 200 kW to 800 kW. Heating temperature is 95º C, with a temperature accuracy of +- 0.5º C. Heater flow is 0.5 GPM (1.9 LPM) to 100 GPM (378 LPM). Steam side pressure is 15 psi, and process side pressure is 68 psi.
Ultra-pure design with PVDF/PFA wetted surfaces
Low cost of ownership because it utilizes steam, which costs less compared to an electrical heater
PLC with touch-screen controls
PLC with mixing valve temperature control for +/- 0.5º C provides precise temperature control
Reliable technology with over 30 years of proven operation in the field — over 400 million gallons of heated DI water
Steam Side
Process Side
Over Temperature Protection
Pressure Relief Valve
Process Low-Pressure Monitor
Leak Detection
Auto-Isolation with Cold Bypass
| | |
| --- | --- |
| Heater | 蒸汽动力去离子(DI)热水器系统 |
| Wetted Surfaces | PVDF/PFA |
| Sizes | 500,000-3,000,000 Btu/hr, or approximately 200 kW- 800 kW |
| Temperature | Ambient to 95º C |
| Temperature Accuracy | +/- 0.5º C (contingent on customer's facilitation) |
| Flow | 0.5 GPM (1.9 LPM) to 100 GPM (378 LPM) |
| Pressure | Steam Side, 15 psi;  Process Side, 68 psi |
| Model | GPM | Dimensions |
| --- | --- | --- |
| PC-3273 | 15 | 38 x 38 x 78 inches |
| PC-5760 | 25 | 57 x 57 x 78 inches |
| PC-6810 | 30 | 57 x 57 x 78 inches |
| PC-11217 | 40 | 68 x 68 x 78 inches |
| PC-11350 | 50 | 68 x 68 x 78 inches |
| Model | GPM | Dimensions |