Demeter™ Food Microbiology Media Preparation Systems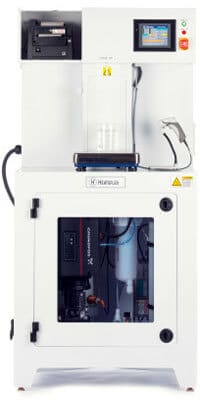 Overview
Demeter™ is an innovative system for food microbiology lab testing that offers improved lab productivity, increased test accuracy, and greater sample traceability. Demeter™ automates media preparation steps in the food testing process. There's nothing else like it on the market.
Highlights
Demeter™ uses the patented Heateflex heating coil, used to heat the sterilized test water. Power is 9.6kW, 208 VAC, 3-ph, 27 amp. Demeter™ dispenses heated water at 203ºF (95ºC), with an accuracy of +/- 2ºC. Test dispenses may be programmed for 90 mL to 4L, with up to 16 recipes available.
Increase Testing Flexibility, Productivity, and Accuracy
Demeter™ offers lab technicians the flexibility to run multiple tests using different test media. Demeter™ heats and precisely dispenses sterilized water into food lab testing containers containing test media. Demeter™ enables testing labs to improve lab productivity and eliminate the autoclave step in the testing sequence by dispensing heated sterilized water directly into pre-sterilized test media in test containers. This approach allows food labs to greatly increase testing throughput. Regardless of whether a lab uses pre-sterilized media or bulk media, Demeter™ precisely dispenses each and every test sample, which significantly improves test accuracy, and minimizes test-to-test variability.
Automatically dispense sterile water with high precision, accuracy, and traceability for temperature and volume
Increase lab throughput with quick, high capacity performance
Procedural time savings entering the incubator at incubation temperature
Sterilization of components prevents bacteria growth through 3 methods: heat, UV, and filtration
Documented traceability throughout the system streamlines the audit procedure for yearly ISO 17025:2005 lab inspection
Lab-specific customization through programmable recipes
Volumetric dispense accuracy with secondary weight confirmation
System Process
Demeter™ tests for three common food pathogens: e coli, listeria, and salmonella. Operators can program Demeter™ for up to 16 separate media recipes, and test dispenses from 90 mL to 4 L. Three methods of sterilization-heat, UV treatment, and filtration-ensure that there's no bacteria present in the testing process. Test results are highly traceable. The system features a bar code scanner that records sample information from each test, and can connect to a lab information management system (LIMS) to streamline the record keeping needed to maintain lab accreditation per ISO 17025:2005 standards.
Read this Food Quality & Safety magazine article to learn how a food testing lab uses Demeter™ systems to increase their testing productivity.
Demeter™ System Introduction
Demeter™ Improves Workflows
Applications
Ideal applications include environmental, food microbiology, and food manufacturing QA/QC labs conducting pathogens testing for the following:
e coli 0157:H7
Listeria
Salmonella
Demeter™ assists in automating media preparation with many media reagents, including the following:
BPW- Buffered Peptone Water
BPBW- Butterfield's Phosphate Buffered Dilution Water
TSB- Trypicase Soy Broth
LB- Lactose Broth
Fraser Broth
Get Quote
Heateflex Distributors
| | |
| --- | --- |
| Heater | Patented Heateflex heating coil |
| Power | 9.6 kW, 208 VAC, 3-ph, 27 amp |
| Dispense capability | 90 mL- 4L |
| Temperature | 203ºF (95ºC) |
| Temperature Accuracy | +/- 2ºC (dependent on customer's facilitation) |
| Dispense accuracy | +/- 2% |
| Scale accuracy | +/- 1% |
| Filtration | 3 filters, final filtration to 0.2 μm |
| UV lamp | 254 nm |
| Recipes | 16 recipes/dispenses for volume and heat |
| Thermocouple | NIST traceable |
| Communications | Non-volatile data storage for the 100 most recent dispenses; interface to LIMS |