Overview
Aries Solvent Heaters safely heat thermally-sensitive fluids such as Isopropyl Alcohol (IPA) and EKC photoresist remover. This heater is ideal for both single-pass and recirculating applications where process temperature, fluid cleanliness and safety are all critical. Furthermore, Aries is an ETL-Listed product, and is UL-823 certified as explosion-proof, dust-ignition proof, and dust-tight, suitable for use in hazardous locations where flammable gases and liquids are present. Several optional controller packages are also available for the Aries on customer request.
Effective & Safe Heating
The solvent heater incorporates design features for effective and safe heating to UL standards. For instance, the insulated housing is explosion-proof, dust ignition-proof, and dust tight. High-pot material epoxy embeds the lead wires, and the heater core comes in a sealed 304 stainless steel enclosure. Furthermore, the ground fault circuit integrator serves as a quick safety switch to prevent too much power into the heater. Finally, the independent fluid path permits the heater to heat flammable fluids.
Isolate Sensors
This heater features a 316L stainless steel coiled tube for wetted surfaces. A durable stainless steel fluid path that is independent of the heater element allows the Aries to effectively heat flammable fluids. Hermetically-sealed electrical and control connections, with thermocouples for process and over-temperature, ensure safe operation.
Cooling Flow Path
The design of the heater includes a cooling flow path, removing residual heat when the process is complete. This ensures that when fluid is not needed, process flow temperature is reduced; protecting both the heater and the operator.
Fluid path separated from heaters allows heating flammable fluids (e.g. IPA, NMP)
High-purity heating with 100% 316L electropolished process wetted surfaces
Isolated sensors
Lead wires are embedded in hi-pot material epoxy
Increased isolation of lead wires and sensors from fumed environments
Heater core is housed in a sealed SS304 enclosure
Cooling flow path
Removes residual heat from the heater core once process is completed
Reduces temperature of process flow once heated fluid is not needed
Can also be used to heat two processes simultaneously
High pressure design capable of 0-3,000 psi
Insulated housing maintains cool surface temperature for safe operation
Tested to UL standards for use in hazardous locations
Explosion-proof, dust ignition-proof, and dust-tight
Ethernet read/write (other options available)
No N2 Purge Required
Liquid Level Sensor
Thermal Cut Off
Ground Fault Circuit Interrupter
Pressure Relief Valves
Flow Sensor
Redundant Safety PLC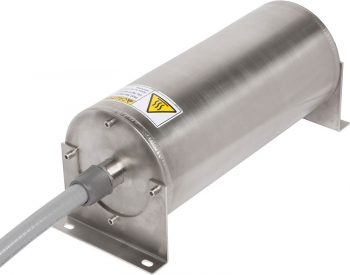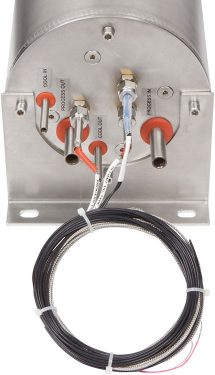 | | |
| --- | --- |
| Heater | Patented Heateflex® Coil |
| Wetted Surface | 316L Electropolished Stainless Steel |
| Sizes | 2.5 kW to 9.0 kW (Dependent on Customer Voltage) |
| Voltages | 200 VAC to 480 VAC, 3-ph (Dependent on Wattage) |
| Temperature | 203°F (95°C) |
| Temperature Accuracy | ±0.1°C (Contingent on Customer's Facilitation) |
| Flow | 0.5 GPM (1.9 LPM) to 32 GPM (122 LPM) |
| Pressure | 60 PSIG @ 95°C |
| Efficiency | >99% |
| MTBF | 10.29 years |
| Communication | Ethernet Read/Write (Other options available) |
Get Quote
Heateflex Distributors