N2 Stainless Steel Heater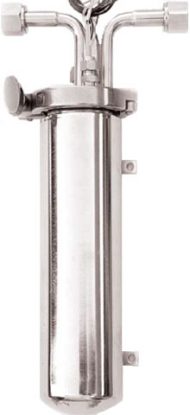 Overview
For high purity wafer drying and parts cleaning, the Heateflex Stainless Steel N2 Heater is suitable for nitrogen, CDA (Clean Dry Air) or other high purity, inert gases. Constructed with an electropolished 316L stainless steel housing, the housing's passivated wetted surfaces ensures compatibility with most process fluids. Additional features include a compact design for reduced footprint and a replaceable heater element. It is also available in a variety of models ranging from 375 watts to 3,000 watts.
Reduce Particle Entrapment
The patented heating module on this gas heater features a tri-clamp sanitary fitting that eliminates threads; reducing particle entrapment and areas for potential bacterial growth. Compare this elegant approach to typical stainless steel heaters where screw plugs, threads, bulky flanges, and bolts can trap particles. In contrast, the Heateflex N2 heater provides a true sanitary design.
Built-In Safety
There are a number of safety features incorporated into the stainless N2 heater. For example, the heater features high limit and process thermocouples to regulate and maintain temperature. Furthermore, there is also a thermal cut-off sensor to prevent overheating, and an electrical ground wire. Finally, there is an additional option for the heater to feature a microprocessor-based temperature controller in a NEMA-rated external switching chassis.
Highlights
The stainless N2 heater comes in various sizes, ranging from 375 to 3,000 watts (dependent on customer voltage) and from 120 VAC to 240 VAC, 1-phase (dependent on wattage). Several units may also be used in-series for higher wattage and flow capacities. Ambient temperature is 200ºC (392º F), with a pressure of 60 PSIG at 200º C.
316L stainless steel electropolished and passivated wetted surfaces
Patented Tri-Clover sanitary fitting eliminates threads to reduce particle entrapment and potential bacteria growth
Compact design offers ~13-inch height
Easy installation with a plug-and-play system
Microprocessor-based temperature controller in NEMA-rated external switching chassis
Flexible solutions offering a variety of power requirements, models, and options
No N2 purge required
Hi-Limit Thermocouple
Process Thermocouple
Thermal Cut-Off Sensor
Electric Ground Wire
| Model | Watts | Volts |
| --- | --- | --- |
| SGH1-375 | 375 | 120 |
| SGH1-500 | 500 | 120 |
| SGH1-750 | 750 | 120 |
| SGH1-1500 | 1500 | 240 |
| SGH1-2000 | 2000 | 240 |
| SGH1-3000 | 3000 | 240 |
| Model | Watts | Volts |
| | |
| --- | --- |
| Heater | N2 SS Heater |
| Wetted Surface | 316L Stainless Steel Electropolish |
| Sizes | 375 – 3000 Watts (Dependent on Voltage) |
| Voltages | 120 VAC to 240 VAC 1-Phase (Dependent on Wattage) |
| Temperature | 392°F (200°C) |
| Pressure | 60 PSIG at 200°C |
Enclosure for Heater
Tri-Clover Fittings Input/Output (Various Sizes Available)
Heater Design to be Upside Down for System Drainage
Additional Safeties Available
Dry Contact on Controls
Certifications for Vessel
Get Quote
Heateflex Distributors