Join Our Family!
Please submit your résumé/CV or fill out an application. We will review it in a timely manner and respond promptly to applicants who are well-qualified for positions at White Knight. Please understand that we receive many applications, and we do not respond to every application. Thank you.
To submit a resume/CV, please email: hr@wkfluidhandling.com.
Contact White Knight for more information.
Download Employment Application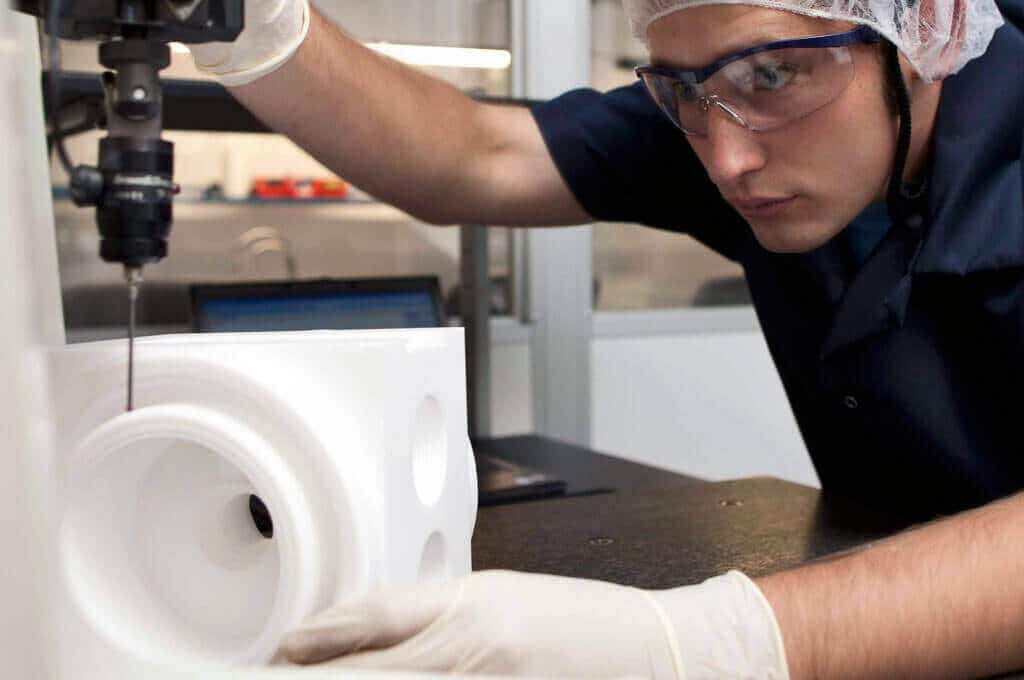 Sr. Electrical Engineer
Classification: Full Time
We are looking for an electrical hardware and software engineer to define and develop product used in fluid handling systems. Position involves multiple project responsibility from recognition of need through project completion.
Requirements:
BS degree in electrical, computer or software engineering or computer science from an accredited institution or equivalent as approved by divisional engineering management group
6 years experience in new product development with demonstrated repeated success producing innovative and successful products
Experience in motor drive controller design and programming
3 years experience planning and leading successful product development projects
Ability to select, supervise, and develop personnel
Excellent engineering/technical aptitude
CNC Machine Operator
Classification: Full Time
This position is on the company's Step Program, which includes rate increases every six months and clear path to achieve career advancement. The 4-10s work schedule means that every weekend is a 3-day weekend. We're looking for reliable, detail-oriented, hard-working, team player, career-minded individuals to help build our great team. Wages range from $14-$25 per hour, depending on experience.
Requirements:
Strong mechanical aptitude
Strong problem solving and troubleshooting skills
Ability to plan effectively and execute the plans
Be willing to work overtime as necessary
Good communication skills and ability to work well with others
Ability to lift and carry 40+ lbs
Other manufacturing experience is a plus
Proficiency with G&M code is a plus
Qualifications:
High School diploma, or equivalent
Completion of a Machine Tool Technology degree program or a Technical School Certificate in Machining, or an equivalent number of years of machining experience is preferred.
QC Technician I
Classification: Full Time
Quality control (QC) technician will be responsible for inspecting, sampling, and testing products to ensure quality standards are met. This person will review and verify documents, report deviations, collect samples, inspect in-process materials. This individual will ensure calibration control.
Responsibilities:
Inspect parts and raw materials
Audit component operations
Audit completed components
Maintain calibration of tools
Competencies:
Proficient at measuring machined parts
Ability to interpret measuring requirements on drawings
Competent with Microsoft Office programs (e.g. Word, Excel, Outlook, Powerpoint)
Strong attention to detail and accuracy
Ability to organize and effectively prioritize multiple tasks to meet deadlines
Minimum Qualifications:
High school diploma
Two years of experience as QC technician in a production environment
Previous experience in an ISO 9001 environment preferred
English verbal and written communication required
Experience using Excel as a database and reporting tool
Ability to lift 15-35 lbs.
Cleanroom Assembler
Classification: Full Time
Responsibilities and Duties:
Assemble and pack both sub-assemblies and final assemblies under close supervision
Maintain required work efficiency and productivity on assigned work station/assembly position
Monitor daily quality of assemblies and communicate any discrepancies
Participate in quality assurance and problem solving to continually improve the quality of assemblies and processes
Qualifications and Skills
High School diploma, or equivalent
Requires the ability to perform continuous short cycle work with light to 40 lb. (or equivalent) weight materials
Requires standing for long periods of time
Requires high attention to detail and strict adherence to operating procedures
Ability to stay organized and meet deadlines
Ability to efficiently perform basic assembly from detailed instructions
Ability to timely and accurately complete assembly