Join Our Family!
Please submit your résumé/CV or fill out an application. We will review it in a timely manner and respond promptly to applicants who are well-qualified for positions at White Knight. Please understand that we receive many applications, and we do not respond to every application. Thank you.
To submit a resume/CV, please email: hr@wkfluidhandling.com.
Contact White Knight for more information.
Download Employment Application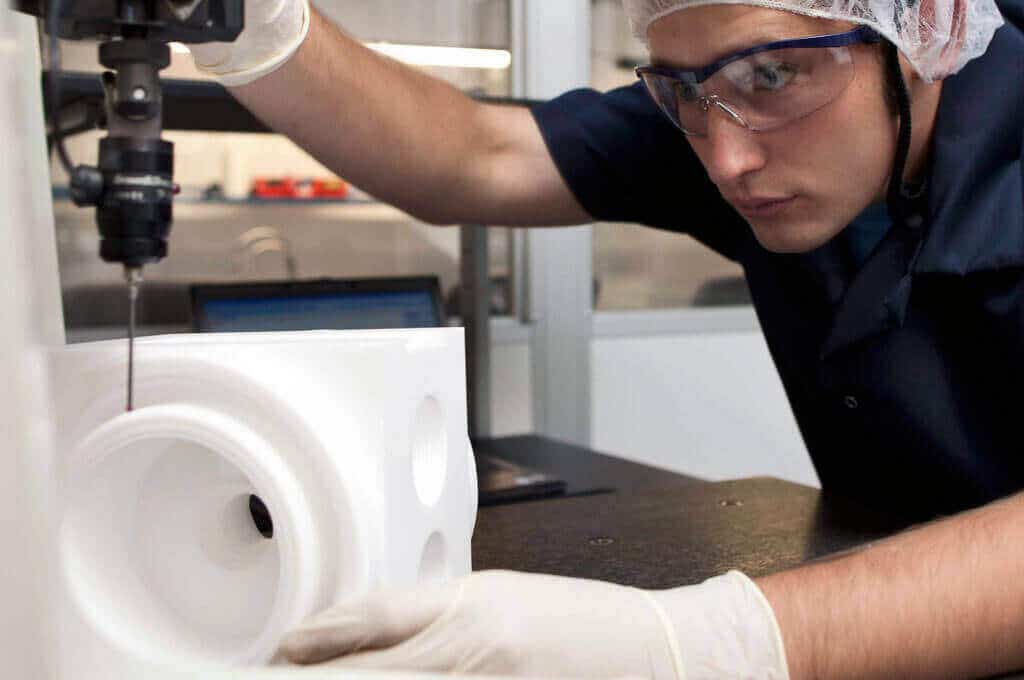 Assembler
Classification: Full-time, all shifts
Wage: $15-20/hr, DOE
Duties:
Assemble and pack both sub-assemblies and completed assemblies with close supervision.
Maintain required work efficiency and productivity on assigned work station/assembly position.
Monitor daily quality of assemblies and communicate any discrepancies.
Participate in QAT and problem solving to continually improve the quality of assemblies and processes.
Report information on quality, delivery and cost.
Other duties as assigned.
Qualifications:
High School diploma or equivalent
Ability to follow a standard operating procedure
Reliable Transportation
Requirements:
Requires the ability to perform continuous short cycle work with light to 40 lb. (or equivalent) weight materials.
Ability to efficiently perform basic assembly from detailed instructions.
Requires the ability to add and subtract decimals or fractions and work from operation layouts and written instructions.
Designer Drafter
Classification: Full Time Contractor
Essential Duties:
CAD design & documentation:
Participate in the design of new products in cooperation with a design team consisting of engineers, other designers, and lab technicians
Produce CAD models/detail drawings of new products
Revise and redraw as required, production drawings of existing standard products
Use and apply Graco drafting standards
Complete ECOs by utilizing PDM and other tools
Requirements:
Two year technical or equivalent
Thorough knowledge of mechanical design drafting practices
Capable of using and applying Graco drafting standards
Electrical Controls Engineer
Classification: Full-time
Essential Duties:
Perform electrical hardware and software engineering tasks in the development of new products and cost reduction:
Demonstrated experience with and knowledge of embedded controllers
Participate in development of product specification
Produce conceptual designs
Guide development process to produce practical designs
Create detailed circuit and hardware drawings and software code
Identify applicable standards
Provide analysis of design to applicable standards
Provide analysis of design using engineering analysis tools and techniques (e.g., Circuit simulation, software analysis tools)
Review instruction manuals and product literature
Define and lead prototype development and lab and field tests
Work with manufacturing on process development
Conduct design reviews, safety reviews
Participate in new product development as a member of a design team by:
Identification and communication of threats to schedule
Participating in release-for-sale activities
Working effectively in a team environment
Assist in standard product support activities, such as:
Analyzing and writing Engineering Change Orders
Troubleshooting product problems in manufacturing, lab or field
Learn, participate in development, and apply knowledge of:
Developments in technical field by staying abreast of developments to maintain technical knowledge
Graco product line
Operational systems
Graco and industry design standards
Graco Quality Management System
Graco customer applications and requirements
Emerging trends in our customers' markets
Requirements:
Bachelor's degree in electrical, computer or software engineering or computer science.
0-5 years of experience in new product development with demonstrated ability to produce results.
Good oral and written communication skills.
Good mechanical aptitude with ability to be an effective contributor to product development or standard product support activities.
Machinist
Classification: Full-Time, Swing Shift
Wage: $20-30/hr, DOE
Duties:
Operate a variety of CNC machines within a factory
Maintain a clean, safe work area.
Adjusts tools and replace as needed
Perform daily maintenance of machines as required and keep supervisor informed of necessary maintenance beyond operator ability
Must read and understand layouts, routings and blueprints for the parts being run
Demonstrated proficiency with Geometric Dimensioning and Tolerancing
Provide accurate inventory counts at all times and keep parts in appropriate storage areas
Proficient in the use of comparators, CMM, Trimos, gages and related measurement tools
Collect and input SPC data which involves the use of comparator, CMM, Trimos, gages and related test instruments
Perform necessary side operations during machine cycle time as required (i.e., deburring).
Work as a team member to aid all shifts and support personnel to produce machined parts which meet Graco standards of quality and productivity goals
Other duties as assigned.
Qualifications:
High School diploma or GED
Completion of a Machine Tool Technology degree program or a Technical School Certificate in Machining, or an equivalent number of years of machining experience is preferred.
Candidates that have completed the first year of a 2-year Machine Tool Technology program may be considered for employment contingent on the successful completion of the degree, certificate, or program.
Requirements:
In terms of an 8-hour workday, "occasionally" means 1-33%, "frequently" means 34-66% or the time, and "continuous" means 67-100% of the time.
In an 8-hr workday, must be able to sit 1 hr, stand 3 hrs, and walk 4 hrs
Position requires frequent bending and stooping, occasional use of fixed or portable stairs, crouching and kneeling and reaching above the shoulder
Employee must occasionally lift and load up to 40 lbs. or greater with the assistance of mechanical lift systems.
The position requires frequent repetitive elbow movements and simple grasping with both hands and occasional firm grasping and fine manipulation with both hands (lifting, dexterity, coordination, mobility, etc.)