White Knight Debubblers
Remove Bubbles from Chemical Delivery Processes
Debubblers
CBA Series debubblers reduce bubbles from high-purity chemical delivery and wafer process systems. They feature 4-in inside diameters, which offer debubbling greater surface area. They are available in various connectable pipe lengths. They feature configurable port connections, and tongue-and-groove seals. Liquid level sensor to mount is available.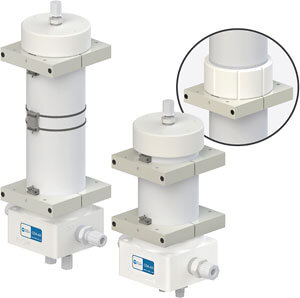 Process-safe, chemically-resistant PTFE and PFA flow paths
Up to 7 Bar (100 psi) pressures
Up to 100°C (212°F) temperatures
Chemical delivery and wafer process debubbling
Leak-Free Tongue-and-Groove seals
Extruded PFA pipe with threaded connections offer easy setup and maintenance without welding
Pressure capabilities offer high flow rates for faster processes
Models capable of up to 6 liters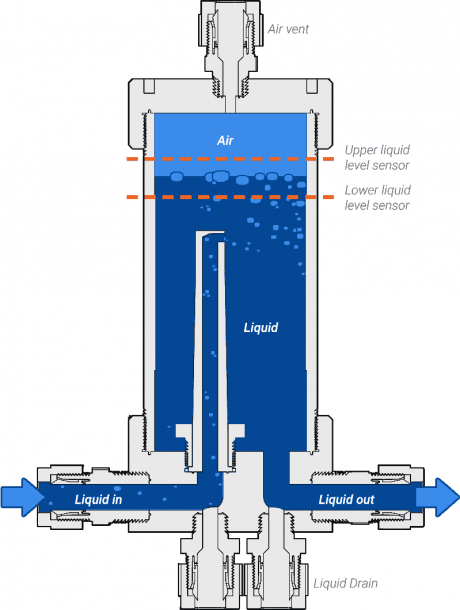 Operation
CBA Series debubblers redirect flow upward and slows the fluid so that air bubbles rise within the chamber. As air collects at the top, the liquid level drops until the lower sensor detects a low liquid level and signals a valve to open to releases air via the drain vent. As air vents, the liquid level rises until the upper sensor detects a high liquid level and signals the valve to close.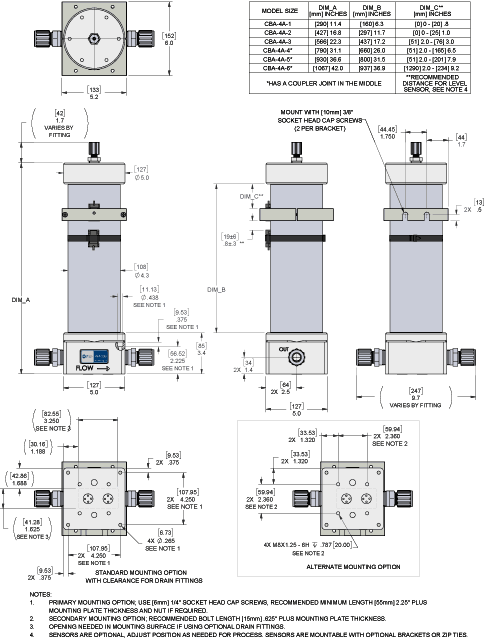 | | | |
| --- | --- | --- |
| mm (in) | A | B |
| 1 liter | 295 (11.6) | 132 (5.2) |
| 2 liter | 434 (17.1) | 272 (10.7) |
| 3 liter | 572 (22.5) | 409 (16.1) |
| 4 liter | 798 (31.4) | 632 (24.9) |
| 5 liter | 935 (36.8) | 772 (30.4) |
| 6 liter | 1074 (42.3) | 980 (38.6) |