PFH Series White Knight Pumps
Teflon® PTFE and PFA Pumps Capable of 145°C with Fiber-Optic Control
PFH Series pumps are the ideal solution for high temperature and ultra-pure recirculation or delivery applications where fiber optic sensors are required for optimum systems control. These Teflon® PTFE and PFA pumps are completely metal free and operate with fiber optic sensors and an external solenoid valve. They perform safely and reliably running continuously throughout their two-year warranty. They offer air supply pressures up to 5.5 Bar (80 psi) and operate in thermal cycling applications with fluid temperatures up to 145°C (293°F).
The pumps are available in three models, PFH030, PFH060 and PFH140, which are capable of maximum flow rates of 30, 60 and 140 lpm, respectively.
100% Metal-Free
Process-safe Teflon® PTFE and PFA flow paths
Leak-proof, machined design
Teflon® PTFE heads with Buttress-Threads
No elastomer O-rings, no leaks, never retorque
No lubrication in shift mechanisms
No electric motors, which generate heat
Various liquid connection options
Safe, leak-free operation due to no-metal design
Minimal parts for durable design
Class 100 cleanroom assembly, testing, and packaging
Easy to install and service
Robust bellows offer supply pressure of 5.5 Bar (80 psi)
No preventative maintenance during two-year warranty
PFH Series pumps operate with a solenoid valve and fiber optics that optimize stroke timing by shifting the pump quickly and efficiently to increase durability.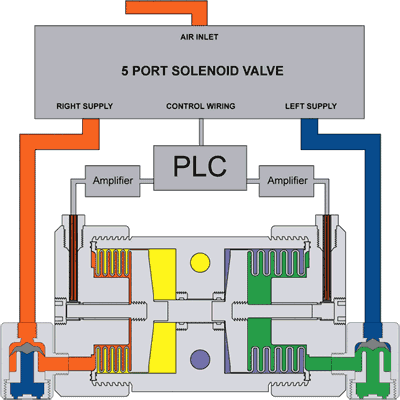 Supply Air
Exhaust Air
Ambient Air
Shift Signal
Liquid Suction
Liquid Discharge
Model

PFH030

PFH060

PFH140

Flow Rate*

25.1 lpm
6.63 gpm

63.9 lpm
16.88 gpm

145.8 lpm
38.52 gpm

Size of Air Connection

1/4-in FNPT

1/4-in FNPT

3/8-in FNPT

Displacement Per Cycle*

0.089 liters
0.024 gal

0.216 liters
0.057 gal

0.500 liters
0.132 gal

Cycles Per Minute*

336 max

318 max

253 max

Weight

3.6 kg (8.0 lb)

5.9 kg (13.0 lb)

17.2 kg (37.9 lb)

Suction Lift*

1 m (3 ft)

1 m (3 ft)

1 m (3 ft)

Sound Pressure**

69.54 dB(a)
66.58 dB(a)

82.74 dB(a)
82.61 dB(a)

81.98 dB(a)
91.60 dB(a)

Sound Power**

58.44 dB(a)
65.52 dB(a)

71.92 dB(a)
73.84 dB(a)

76.37 dB(a)
83.16 dB(a)

Max Temperature

145°C (293°F)

Max Pressure

5.5 Bar (80 psi)

Fluid Path Materials

PTFE, PFA

Non-Fluid Path Materials

PTFE, PFA

Stroke Detection Options

Fiber optic with or without sensor, or solid state pressure switch

Leak Detection Options

Fiber optic with or without sensor, or conductivity

Electronic Control

Available

Model

PFH030

PFH060

PFH140
*May vary by configuration or system. Suction lift diminishes over time. Recommended installation level less than 3 ft above source.
**dB Level at 80 psi 50 CPM (top) and 80 psi maximum CPM (bottom). Sound Levels measured in accordance with ISO9614-2:1997.
***Dry-run capable PFHSD pumps require flooded suction and may have a reduced warranty. Contact White Knight for details.