High-Purity Mini Pumps
PTFE and PFA fluid paths for low flow chemical processes
Overview
White Knight PPMC Mini Pumps feature PTFE and PFA fluid paths for high-purity chemical processes. The pumps are capable of up to 300 ml/min flow rates and 160 psi discharge pressures. They feature solenoid valves that actuate each suction and dispense action.
Metal-free fluid path
≤ 300 ml/min flow rates
≤ 11 bar (160 psi) fluid pressure
≤ 7 Bar (100) psi supply air
≤ 100°C (212°F)
≤ 0.5 m (20 in) suction lift
Dry-run capable
On-board controller with internal solenoid valves
24 VDC using 5 pin Turck power and input connections
Operates with analog or digital external inputs, or fixed cycle rate internal controls
Various liquid connection options
Compact footprint
Mount in any direction
Easy to install
Operation
Mini-pumps operate by two solenoid valves that actuate both the suction and dispense actions of the pump. While spring-loaded checks enable the pump to mount in any direction, an upward flow path is preferred to better evacuate air bubbles from the fluid line and to improve repeatability.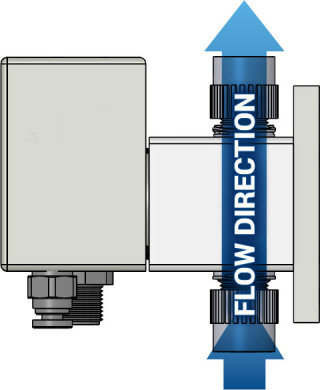 Pin

Function

Connection Type

Connector Diagram

1

Power
24 VDC Power Supply

5 pin Turck EuroFast style connector

2

Analog Input
0-5 VDC Analog input to set cycle rate.
- 0-1 VDC = Pump Off
- 1-5 VDC = Pump On = 0-400 CPM

3

Common Ground
0 VDC Ground

4

Valve Control
Actuate Suction
Sink Type Signal
- 24 VDC = Not Active
- 0 VDC = Active

5

Valve Control
Actuate Discharge
Sink Type Signal
- 24 VDC = Not Active
- 0 VDC = Active
Operation

Description

Notes

Analog Input
Pump will stop cycling if analog input is 1 VDC or less. If analog input is 1-5 VDC, cycle rate equals: 100*Voltage-100
Pump should be powered on and valve controls disconnected.
External
Valve Control
When pump is powered on and analog input is less than 1 VDC, solenoids and cycle rate can be controlled from external PLC.
Pump should be powered on.
Fixed Cycle Rate*

Pump cycles at desired rate when on. It continues cycling until powered off.

Pump should be powered on
and valve controls disconnected.
*Offered by request only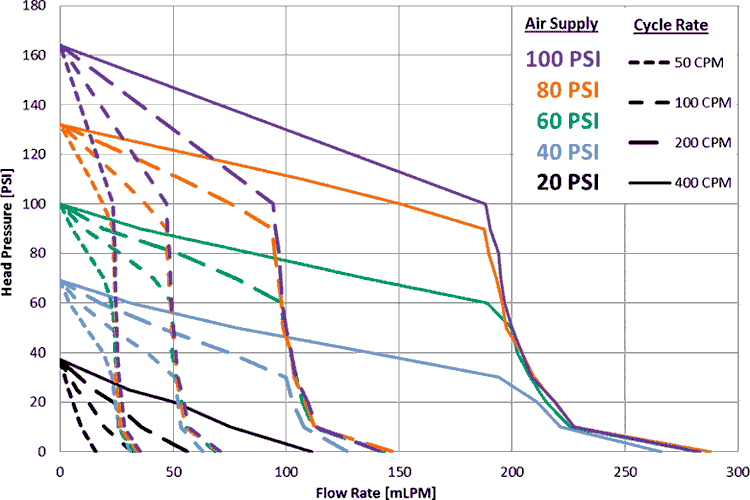 * 300 mL/min at wide open flow path. Performance measurements shown are using a back pressure regulator to simulate a pressurized system. Results may vary.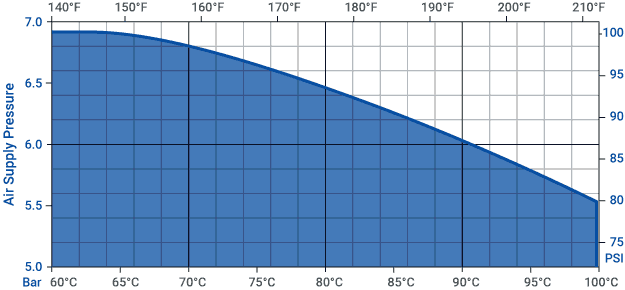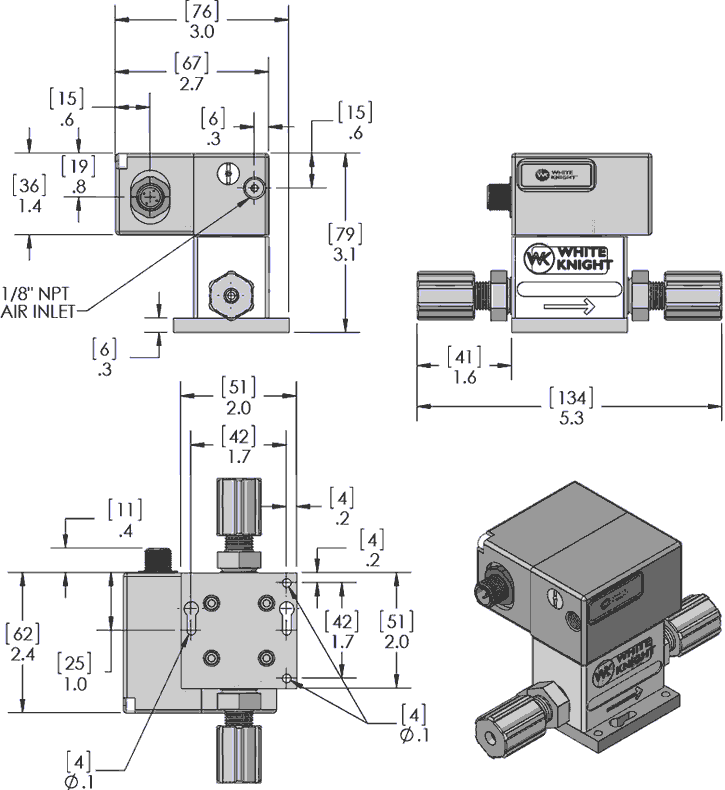 Model

PPMC300

Dispense Volume
per Stroke

~0.75 ml*

Max Flow

300 ml/min

Max Fluid Pressure

11 bar (160 psi)

Max Air Pressure

7 bar (100 psi)

Cycles per min

400 max

Air Consumption

1 SCFM

Fluid Path
Materials

PTFE, PFA

Max Dry
Suction Lift

508 mm (20 in)

Solenoid Valves

2x
24V Manifold Valves 0.7 CV

Turck Connector

5 Pin O-ring Sealed

On-Board
Controller
Power: 24 VDC
Max Power Consumption:
6 Watts
Internal I/O:
• Two 24 VDC Valve outputs
External I/O:
• One 0-5 VDC analog input.
• Two NPN Compatible
Signal Input
* Stroke length varies depending on operation.