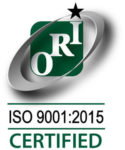 ISO Certification
White Knight's quality management system is certified according to ISO 9001:2015.
ISO 9001 specifies criteria for quality management systems. It is based on quality management principles including a strong customer focus, the motivation and implication of top management, the process approach and continual improvement. ISO 9001 helps ensure that customers get consistent, good quality products and services. Visit ISO 9001 Quality Management website for more information.

EC Machinery Directive 98/37/EC
EC Machinery Directive 2006/42/EEC
Low Voltage Directive 2014/35/EU
Electromagnetic Compatibility Directive 2014/30/EU
RoHS 2 Directive 2011/65/EU
EN 809:1998+A1:2009
EN 60204-1:2006+A1:2009
EN 61000-6-2:2005
EN 61000-6-4:2007+A1:2011
EN ISO 4414:2010

USP Class VI Certifications
The United States Pharmacopeia (USP) is a non-government organization that is concerned with the pharmaceutical and bio-technology industries. The USP establishes standards for quality, purity, strength and consistency to safeguard the quality of medicines and other health care technologies. USP Class VI compounds must be made from ingredients with clear histories of biocompatibility that meet tight requirements for leachates.
Samples of PTFE, Copolymer PTFE and PFA provided by White Knight Fluid Handling have been tested for compliance to USP Class VI (70°C) plastic. Testing was performed by Pacific BioLabs on September 16, 2015 in compliance with the standards published in the USP Biocompatibility Testing standards (USP<88>).
The qualification of these materials qualifies the following White Knight products in applications requiring USP Class VI certifications: