PPM100 Pneumatic Metering Pumps
Ultra-High Purity PTFE Dispense Pumps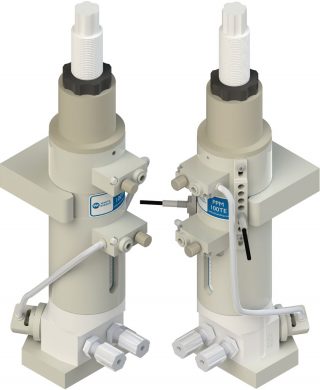 PPM100 pneumatic metering pumps offer high-pressure capabilities and PTFE fluid paths. They accurately dispense corrosive media up to 100 ml, and operate with a fully supported rolling diaphragm – maximizing discharge pressure capabilities. Two positive control valves ensure accuracy by eliminating variability that is typical of check valves. PPM100SE configuration include magnets and additional connection points to accommodate stroke detection.
PPM100 Spec Sheet
PPM100 Owner's Manual
PPM100 Exploded View
PPM100 CAD Models
Manually controllable stroke limiter for adjustable dispense volume up to 100ml
Fully adjustable stroke speed
Highly accurate; 0.1% repeatability
Safe, leak-free; no maintenance
No exposed metalics prevents corrosion and contamination
100% PTFE fully-swept fluid path for ultra-pure applications
PTFE rolling diaphragm with PP housing
Position reference for easy setup and monitoring
Easy to install and service with snap-in/out mount
Can be installed in any orientation
Clean room assembly, testing and packaging
Self-priming
Compact footprint
Minimal hold-up volume
60 – 85 psi capability
Positive inlet/outlet valving prevents flow through
Leak detection port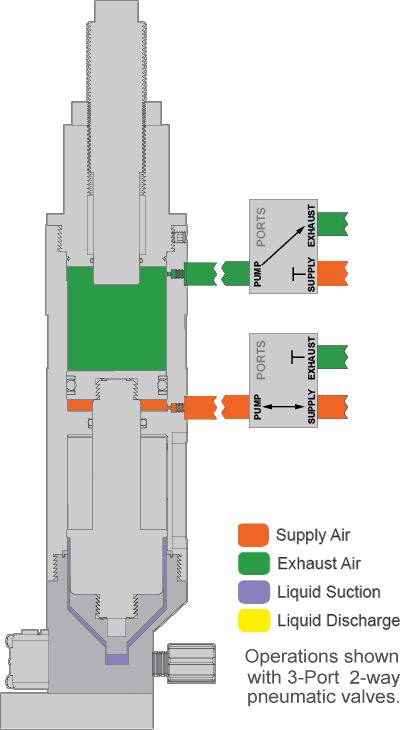 Dispense Range

10 - 100 ml per stroke

Dispense Repeatability

± 0.1% (Full Scale)

Cycles Per Minute

up to 12 CPM

Air Consumption
SCF per Cycle

0.038-0.048 SCFM

Fluid Path Materials

PTFE

Valve Actuation
Air Pressure

4.14 - 5.86 Bar
(60 - 85 PSI)

Max Discharge Pressure

5.86 Bar
(85 PSI)

Temperature Capability

up to 100°C (212°F)

Weight

1.6 KG
3.5 LBS

Suction Lift*

4.6 Meter
15 Feet

Leak Detection Options

Valve Position Sensing
*Optimized parameters improve repeatability. To maximize repeatability, minimize suction lift, optimize dispense nozzle setup, purge air from fluid chamber, and minimize inlet fluid pressure fluctuations. Tests conducted with water at ambient temperature. Dispense range measured at full stroke with maximum and minimum supply pressures at 80 and 60 PSI.