White Knight Grounded Liquid Fittings
Adapters for pump connections in solvent applications
Overview
Insert grounding adapters between the fluid ports of White Knight high-purity pumps and their liquid fittings. Adapters must be used at both inlet and outlet connections, and grounded. Grounding adapters are conductive PTFE.
Use White Knight fiber optics for leak and cycle sensing to ensure safe and reliable operation.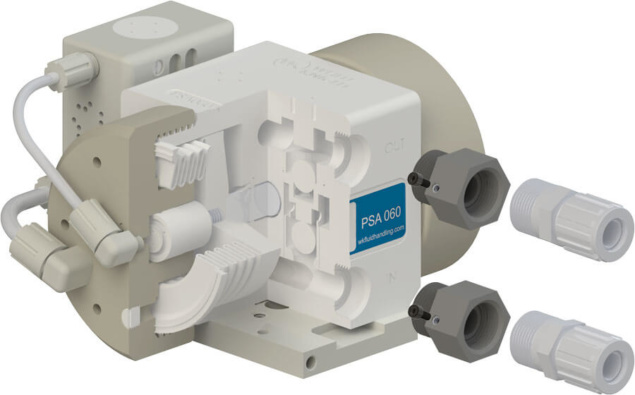 Compatible Pumps
White Knight grounding adapters are compatible with all White Knight high-purity pumps and fittings, but they should not be used with pumps that are controlled with proximity sensors. See below for compatible pump models.
Automatically maintain laminar flow or steady pressure with metal-free closed-loop control systems offering stable temperatures, dead-head and suction lift!
White Knight's closed-loop systems provide complete control of high purity chemical processes and delivery systems. They simplify process automation to save customers time and resources, and they reduce costs by eliminating the need for expensive pressure systems.
≤ 140 lpm (36 gpm) flow rates
≤ 7 Bar (100 psi) pressures
≤ 210°C (410°F) temperatures
No metals or elastomer O-rings
No electric motors, no heat rise
Maintain stable temperatures
High-Purity Closed-Loop Systems