Vesper™ PVDF/PFA Heat Exchangers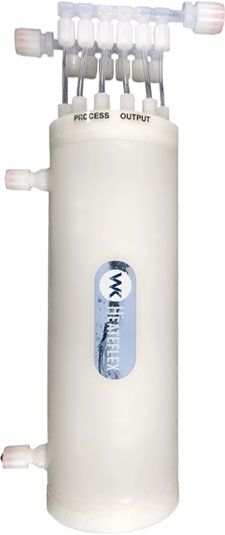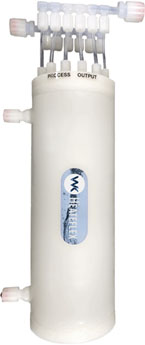 Overview
Vesper™ Series of PVDF/PFA heat exchangers offer a variety of solutions for heating, cooling, and temperature trimming of fluids used in ultra-pure manufacturing processes. Vesper™ models are ideal for heating and cooling deionized water, solvents, and Piranha/SC1, among other fluids. Moreover, all Vesper™ heat exchangers feature the efficient and patented Heateflex heating coil. These heaters come either as standalone heat exchangers, or as an integrated heater or heat exchanger. Models are available in 2 kW to 5 kW.
Compact Process Purity
High-purity polypropylene, PVDF, or PFA are used to construct the Vesper's heater housing. Most importantly, though, the heat exchanger tube bundles are all-PFA to ensure chemical compatibility. All Vesper™ models feature a compact design, with the maximum heating surface in the smallest possible footprint for efficient heat transfer. These heat exchangers are typically 10″ to 30″ tall, and range from 2″ to 6″ in diameter.
Plug-&-Play
Vesper™ heat exchangers come with a microprocessor-based temperature controller in a NEMA-rated external switching chassis. Besides that, this chassis includes all controls and components needed to meet your stringent heating requirements, and easily integrates into current systems. Furthermore, as options, these heat exchangers can also be configured with a Type-K thermocouple and a fluid drain for simplified cleaning.
Highlights
Vesper™ heat exchangers are available in outputs of 2 kW to 5 kW (dependent on model and customer voltage), and in voltages from 200 VAC to 480 VAC, 1-phase (dependent on wattage). Ambient temperatures are 95º C (203º F) for the shell, and 180º C (356º F) for the tubes. Operating pressures are dependent upon the model.
Ultra-pure PFA process wetted surfaces for chemical compatibility
Polypro/PFA, PVDF/PFA, or all-PFA heat exchanger shells with PFA tubing
PVDF/PFA or all-PFA heater options
Maximum surface area in small footprints to maximize heat transfer
Compact designs feature 10-30-inch heights and 2-6-inch diameters
Flexible options enable exchangers to be designed for your applications
Easy installation and integration into current systems with plug-and-play connections
Heat exchanger and heater are integrated into one housing in certain models
Designed to heat and cool fluids
Features Heateflex's patented heating coil
Heat exchanger temperatures of 95°C (203°F) for shell and 180°C (356°F) for tubes
Models capable of 2-5 kW, dependent model and voltage
Models capable 200 VAC to 480 VAC, 1 phase, dependent on wattage
Various fitting options
Thermal cut off
Harmony cap
Drain
Type K Thermocouple

Controls
Microprocessor-based temperature controller in NEMA-rated external switching chassis provides a full plug-and-play system. Chassis includes controls and all components to meet your stringent heating demands.
VE Models – Heat Exchanger Only
Model

Shell
Material

Process
Material

Surface
Area

VEH2

PVDF, FEP, PFA

PFA Tube

930 in²

VEH6

PVDF Pipe

PFA Tube

930 in²

VEB4

PVDF Pipe

PFA Tube

1,000 in²

VEF3*

PTFE/PFA

PFA Tube

1,850 in²
*VEF3 is a fully automated system.
VH Models – Heat Exchanger & Heater
Model

Shell
Material

Process
Material

Heater
Material

Surface
Area

VHB6

PVDF Pipe

PFA Tube

PVDF Pipe

1,000 in²

VHH1

PVDF Pipe

PFA Tube

PFA Tube

1,000 in²
Get Quote
Heateflex Distributors