White Knight Catcher™ Pre-Filters
Protect pumps from wafer shards and other harmful solids
Overview
White Knight Catcher™ pre-filters protect pumps from wafer shards and other harmful solids. They feature larger through holes than other pre-filters to avoid loading filters with fine crystals while still filtering solids that could damage pumps. The filter can be removed and cleaned without disconnecting liquid lines. If a passing solid damages a White Knight pump while using a Catcher™, White Knight will repair the pump at no charge.
In-line Catchers™ are for all White Knight pumps. Pump-mounted PFII050, PFII100 and PFII300 pre-filters are for White Knight 30-, 60- and 140-LPM pumps, respectively.
PF and PFII Catcher™ pre-filters can operate at up to 210°C (410°F) with appropriate fluid connections. FLR and NPT catchers operate at up to 100°C (212°F).
In-line and pump-mount options
Large through-holes to avoid loading
Filter may be removed without removing the Catcher™ from the pump or line
Pump components damaged by passing solids while using Catchers™ are repaired under warranty
100% Teflon® PTFE and PFA in liquid path
Safe, leak-free operation
Minimal parts for durable design
Easy to install and service
Various liquid connection options
Pump-Mounted Catcher™ Pre-Filters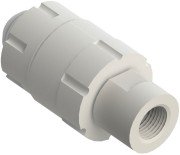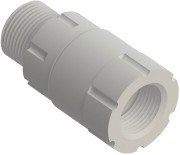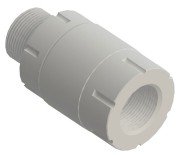 In-Line Catcher™ Pre-Filters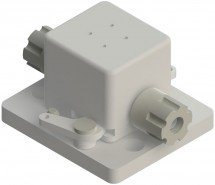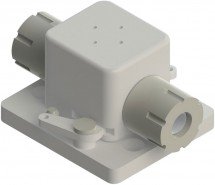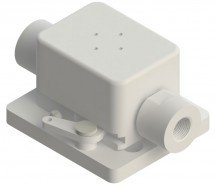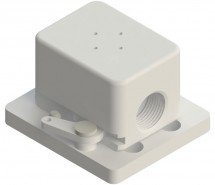 | Model | CV |
| --- | --- |
| PF050FLR | 2.4 |
| PF050FLR-021 | 2.0 |
| PFII050 | 2.2 |
| PFII050-021 | 2.0 |
| PFII100FLR | 4.2 |
| PFII100FLR-021 | 4.2 |
| PFII100 | 4.8 |
| PFII100-021 | 4.8 |
| PFII300 | 12.8 |