Quartz Tank Repair & Restoration
Restore Your Quartz Wet Process Tanks
Overview
Quartz is the material of choice for wet processing in the semiconductor industry due to its high purity and chemical compatibility. Imtec has manufactured quartz wet process tanks for more than 20 years.
Built with quality components and craftsmanship, out quartz tanks can last for years. We offer restoration and quartz repair services to eliminate tank replacement cost associated with chemical residue, vapors, and operator errors that wear seals, housings, wiring, and quartz chambers. Repaired tanks can cost substantially less than replacements.
Why repair your tank with us? As an OEM of quartz tanks, we have a deep understanding of the proper way to build and rebuild quartz tanks. These lessons improve the life and reliability of quartz tanks from our facilities. For example, we understand the permeability of RTV seals used to bond quartz tanks to plastic housings. Chemistry such as phosphoric acid or sulfuric acid can erode these seals over time, which is why our engineers constructed Aquaseals. Aquaseals maintains a constant stream of water flowing away from the vulnerable RTV seal. This water barrier helps preserve the RTV seal.
All quartz tank repairs include refinishing of the quartz chamber and reassembly using all new components. Only the quartz is re-used, making the repaired tank just like new. Quartz tank upgrades, such as adding an Aquaseal or thermal couple bracket, can be made during the repair process, either adding new functionality to your wet process or improving the life of your wafer bath.
Contact your representative to learn more about tank restoration and repair services.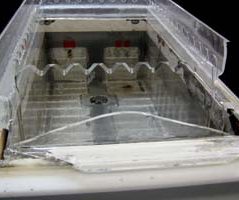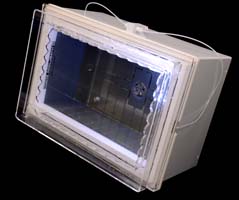 Standard Tank Rebuild Includes
Chemical clean, burn-off and fire-polish of quartz chamber
All new heaters and insulation
All new sensors and wiring
New housing and flange (unless noted otherwise)
Complete quality control inspection per new tank procedures
All work completed using ISO 9001 procedures
All tanks returned for rebuild are evaluated and checked to ensure that no additional work is needed.
All repairs will have an evaluation sent noting work to be performed and total cost and requires customer approval before work starts.
In some cases, Imtec may find hidden defects in the quartz after the initial evaluation and approval, and declare the unit to be un-repairable. In this case, the customer is not liable for any work performed by Imtec. In the event this happens, the customer may choose to have the tank returned at their expense or scrapped at Imtec.
Where damaged quartz is repaired by Imtec, it will be guaranteed to meet functional performance specifications, but may not meet Imtec's specifications for cosmetic appearance on new products.