Imtec Completes Class 10/1000 Cleanroom Installation
Imtec Acculine recently announced completion of a new clean room to be used in their assembly and test area. The 500 Sq. ft. cleanroom is separated into two sections. One side is class 1000 and will be used for product and component testing. The other side is class 10 and will house a wet station incorporating Imtec process modules as well as a vapor dryer and inspection equipment. To support the new clean room, an entirely new and upgraded DI water system with new high purity plumbing was installed.
The new class 10 area will be used for evaluating new products and applications such as non traditional uses for megasonics. Mark West, Sales Manager of Imtec Acculine, says "We are receiving a lot of inquiries about using megasonics in new applications such as KOH etches, photoresist developer, and cleaning of materials other than silicon. In some cases, there is no way to find out how megasonics will work in these applications without actually running samples and we hope to be able to perform some of these feasibility tests on site in support of our customers."
Paul Mendes, President, says "Our new clean room shows our commitment to continually meeting the increasing demands of our customers. Testing products in a clean area with high quality DI water shortens the qualification time at the customer's facility and reduces the risk of contamination. We understand their needs and are willing to make the investments needed to ensure our products perform to the highest level possible."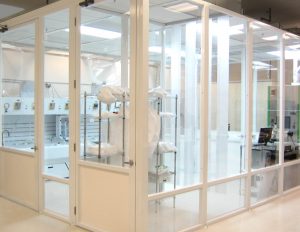 Imtec Acculine Class 10/1000 Cleanroom, 500 Sq. ft.
About Imtec Acculine
Since 1972, Imtec Acculine has consistently provided high quality products for rapidly changing markets and technologies. The company has a broad customer base that includes companies of all sizes, OEMS, labs, and universities from all over the world. Innovation is a hallmark of Imtec and the company has many industry firsts to its credit. It was the first to introduce the quartz re-circulating bath and continues to be the world's leading supplier of quartz constant-temperature baths. Imtec was also the first to obtain UL safety recognition and CE approval for its bath products. As a result of having supplied high-quality products to a customer base of more than 500 semiconductor-related companies, Imtec Acculine's modules and systems are constantly optimized. Consistent with its ISO 9001 certification, Imtec Acculine is continually involved in product improvement, evolution and new product development, allowing the integration of leading-edge developments in system applications.
The company's mission is to produce consistently high-quality products that solve real problems for its customers. As such, Imtec Acculine is committed to the international semiconductor and related industries by providing the finest wet-processing modules and systems.