Media Preparation
Heateflex Ultra-Pure Fluid & Gas Media Preparation Systems
Overview
Life science and testing industries—including environmental, pathogen, water, and food—produce and consume large volumes of media, buffers and broths. The accuracy of the test depends on the proper preparation of the media. Large-scale media preparation introduces the possibility of errors in every batch. Heateflex has developed an innovative solution for highly accurate, quick media preparation that employs multiple sterilization methods. Our products have been engineered and designed to address strict ISO/FDA guidelines for media preparation and lab certification.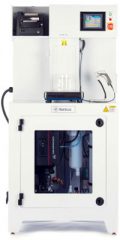 Demeter™ is a highly innovative new system for food microbiology lab testing. Want higher lab productivity, increased test…
Demeter Dispense Heaters
Aquarius® deionized (DI) water heaters are the perfect solution for high-purity DI Water heating applications that require highly accurate temperature control. Its Power-to-Flow Control® feature provides one of the most accurate temperature controls available in DI water heating systems, and it eliminates undesirable overshoots or drops in temperature due to inadequate PID controllers. Aquarius® systems are engineered to deliver high flows of continuous, at-temperature, hot DI water.
Ultra-pure design with PVDF/PFA wetted surfaces
Programmable logic controller delivers enhanced temperature stability
No N2 purge required
Plug-and-play system with fully integrated controls
High-resolution touch-screen
Save costs by reducing the need for multiple immersion heaters
Aquarius® DI Water Heater Systems