Heaters for Semiconductor Manufacturing
Overview
Heateflex has been a pioneer in the development of ultra-pure heating equipment for the semiconductor market since 1974. We have built a reputation by providing products that meet and exceed stringent industry (SEMI) requirements for safety, quality and performance to enable improved yields in semiconductor manufacturing processes.
Heateflex engineers design products for applications such as DI water heating, fluid and gas heating and heat exchange, filtration, temperature, and liquid level sensing and control that align industry needs with improved material technologies. A recently-completed expansion of the company's cleanroom production facilities ensures compliance with customer expectations as production volumes increase. Heateflex empowers our customers with adaptable temperature control solutions that provide extreme precision and efficiency.

Aries solvent heaters safely heat thermally-sensitive fluids such as Isopropyl Alcohol (IPA), EKC photoresist remover…
Aries Solvent Heaters
Aries PFA IPA heaters safely and effectively heat thermally-sensitive fluids such as Isopropyl Alcohol (IPA) and EKC…
Aries PFA IPA Heaters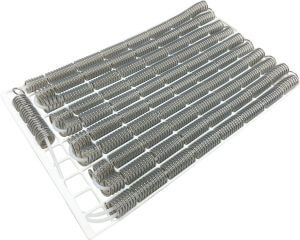 Heateflex immersion tank heaters are great for heating fluid baths to a constant temperature. These tank heaters are…
PFA Tank Heaters
Aquarius® deionized (DI) water heaters are the perfect solution for high-purity DI Water heating applications that require highly accurate temperature control. Its Power-to-Flow Control® feature provides one of the most accurate temperature controls available in DI water heating systems, and it eliminates undesirable overshoots or drops in temperature due to inadequate PID controllers. Aquarius® systems are engineered to deliver high flows of continuous, at-temperature, hot DI water.
Ultra-pure design with PVDF/PFA wetted surfaces
Programmable logic controller delivers enhanced temperature stability
No N2 purge required
Plug-and-play system with fully integrated controls
High-resolution touch-screen
Save costs by reducing the need for multiple immersion heaters
Aquarius® DI Water Heater Systems