Heateflex True Sanitary In-Line Fluid Heaters

Overview
Heateflex True Sanitary In-Line Fluid Heater meets the demanding fluid heating applications found in the semiconductor, medical device, pharmaceutical manufacturing, and food & beverage processing industries. Most importantly, this 316L electropolished stainless steel heater is a true sanitary design. In order to meet a variety of applications, it is chemically compatible with most process fluids. Furthermore, it is available in multiple voltages, and with heater outputs of 12, 18, or 24 kW.
Safety Built-In
For those with safety on their minds, the Heateflex sanitary design heater incorporates a number of safety features. For example, the heating element is UL and CSA listed . And, the stainless steel J-box ensures operator safety, protecting the electrical components from external environmental factors. Futhermore, this heater comes standard with a high-temperature thermocouple, with other safeties available upon request.
True Sanitary Heaters Brochure
Get Quote
Heateflex Distributors
True Sanitary Design
This heater will ensure the highest levels of process fluid purity. For example, it has zero threads and zero dead legs, reducing potential locations for particle contamination and microbial growth. Also, the fluid input on the bottom of the heater ensures that the process fluid in the unit will completely drain. Moreover, for more efficient cleaning and easy inspection, this heater features a removable element and end cap. An ASME BPE design may also be specified for this heater upon request.
Highlights
The sanitary-design fluid heater is available with outputs of 12, 18 or 24 kW, and voltages of 208 VAC, 400 VAC, and 480 VAC (3-phase). Operating temperature is 95ºC (203ºF) and operating pressure is 60 psi at 95º C.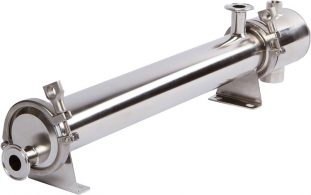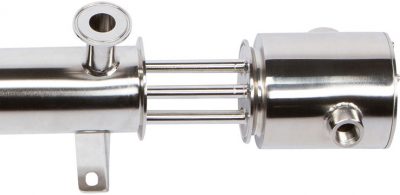 Heater Housing Connection
316L stainless steel electropolished wetted surfaces
All sanitary connections
Polished and passivated 316L stainless steel surfaces
Patented tri-clamp input and output sanitary fittings between the heater and the housing eliminate threads, reducing particle entrapment and potential bacteria growth
Zero dead legs to prevent microbial contamination
Heating element UR and CSA listed
Input on bottom of heater for gravity draining capabilities
Removable end cap for easy cleaning and inspection
ASME BPE design available for high-hygienic applications
Stainless steel J-box
32 Roughness Average finish (other RA finishes available)
High-limit thermocouple
Other safety options available)
| | |
| --- | --- |
| Heater | True Sanitary Heater |
| Wetted Surfaces | 316L Stainless Steel Electropolished |
| Outputs | 12, 18, or 24 kW |
| Voltages | 200 VAC, 400 VAC, and 480 VAC (3-ph) |
| Connection (input/output) | 1-inch Tri-Clamp |
| Temperature | 203º F (95º C) |
| Pressure | 60 PSIG @ 95º C |
| Model kW | Voltage | Amps | Length |
| --- | --- | --- | --- |
| 12 | 208 | 34 | 27-5/8 in |
| 12 | 240 | 29 | 26 in |
| 12 | 400/480 | 18/15 | 28-1/4 in |
| 18 | 208 | 50 | 37-1/8 in |
| 18 | 240 | 44 | 35-1/2 in |
| 18 | 400/480 | 16/15 | 37-3/4 in |
| 24 | 208 | 67 | 44-3/8 in |
| 24 | 240 | 58 | 42-3/4 in |
| 24 | 400/480 | 35/29 | 45 in |
| Model kW | Voltage | Amps | Length |