Products for Semiconductor Manufacturing and Fabrication
High-Purity Pump Systems, Wet Process Tanks, & Heaters
Automatically maintain laminar flow or steady pressure. White Knight closed-loop systems feature metal-free pumps with PTFE and PFA flow paths. They provide stable temperatures, dead-head, and suction lift.
Control your high-purity chemical processes and delivery systems. Simplify process automation to save time, resources and reduce costs.
≤ 140 lpm (36 gpm) flow rates
≤ 7 Bar (100 psi) pressures
≤ 210°C (410°F) temperatures
Maintain stable temperatures
No metals, no corrosion
No elastomer O-rings, no leaks
No electric motors, no heat rise
No impellers, no microbubbles
High-Purity Closed-Loop Systems
Gapless Transducer offers better process uniformity in the tank
Transducers with tightly matched crystals wired together in parallel for small potential difference between crystals
Reliable components
Extensive 36 month warranty
Cassette & cassette-less designs for up to 300 mm wafers & larger substrates
High watt density
Operates at 70°C+
Field replaceable transducer arrays
Accumeg® Megasonic Systems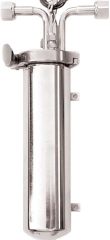 Stainless steel N2 heaters are for high-purity wafer drying and parts cleaning. Heateflex stainless steel N2 heaters are suitable for nitrogen,…
N2 SS Heaters

Heateflex True Sanitary in-line fluid heaters meet the demanding fluid heating applications of semiconductor, medical…
Vesper™ Heaters
White Knight offers a wide range of ultra-pure heaters, including gas heating systems, industrial water heaters, and immersion heaters for heating deionized water, chemicals, gases, and solvents.
All White Knight Heaters