Accubath™ Heated Stainless Steel Process Tanks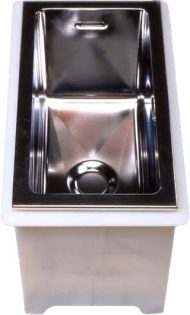 Overview
IMTEC has set the global standard for both static and recirculating heated process tank. Our complete line of Accubath systems deliver unsurpassed process performance, reliability, and safety in wet systems throughout the world.
Our commitment to engineering excellence has consistently given IMTEC's customers exceptionally dependable and advanced process equipment. The Accubath combines the highest quality materials and engineering designs to create vessels that enhance your process.
Our Stainless Steel tanks are your high-purity alternative for chemicals not compatible with Quartz. These processes included solvent cleaning and stripping.
Please review our material compatibility chart to find out which material works best for your process.
Highest Purity Materials – RA10 finish, electro-polished 316LSSN seamless vessels.
Versatility – Available in static or recirculating models. Accommodates special chemistries solvents and strippers.
Safer Operation – High-freeboard vessels with or without condensing collars and lids for VOC's are available.
Options – Drains, locator studs, sensor probe holders, and many more.
Specifications
General specifications apply to Accubath stainless steel heated baths. Model specific information is supplied with each bath. Please review material compatibility.
Model

Accubath Heated
Stainless Steel Tank

Tank Material

Type 316L Electropolished

Stainless Finish

RA10 seamless

Housing Material,
Standard

Fire Retardent
Polypropylene

Housing Material,
FM 4910 Optional

PVDF

Over-temperature
sensor 1

Two (2) J-type thermocouples

Over-temperature
sensor 2

Thermostatic snap switch
(opens at 210°C +/- 7°C)

Heater Elements

Low watt density
Silicon Rubber

Insulation

High Density
Aluminum Silicate

Max. operating
temperature

130°C

Operating voltage

200-240VAC

Limited Warranty

One Year