Heateflex Recognizes Daeshin Tech Co. of South Korea for 2017's Best Sales Team Management
At SEMICON Japan last month, Jorge Ramirez, CEO of Heateflex Corporation, presented Mr. Han-Kyu Kim, President of Daeshin Tech Co. Ltd., with a commemorative plaque recognizing him for the Best Sales Team Management for 2017. Daeshin Tech was the highest performing sales team for Heateflex Corporation this year. In addition, many of the company's sales included Immersion Heaters, PFA/PVDF In-Line Fluid Heaters, PFA In-Line Fluid Heaters, Vesper™ Heat Exchangers, and Aquarius™ DI Water Heaters.
"Daeshin Tech is an important partner for us," said Ramirez. "Their knowledge of the semiconductor market along with the mechanics it employs, keeps them in the middle of high technological development in South Korea. Furthermore, with SEMI's reporting that Korea has become the top semiconductor equipment market in 2017, we appreciate even more the expertise and experience offered by Daeshin Tech's management and staff."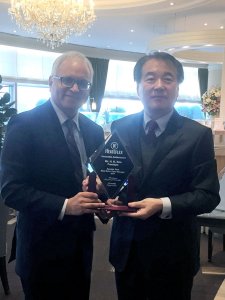 Heateflex CEO Jorge Ramirez and Han-Kyu Kim, President of Daeshin Tech Co. Ltd.