White Knight High-Pressure Pump
High-Pressure Metering Pump for Continuous Low Flow
Overview
White Knight PHC40 electronically-controlled pneumatic metering pump offers up to 40 bar (580 psi) liquid discharge pressures and is capable of receiving up to 7 Bar (100 psi) air supply pressure. It dispenses up to 60 ml per minute. It features metal-free flow paths to prevent ionic contamination.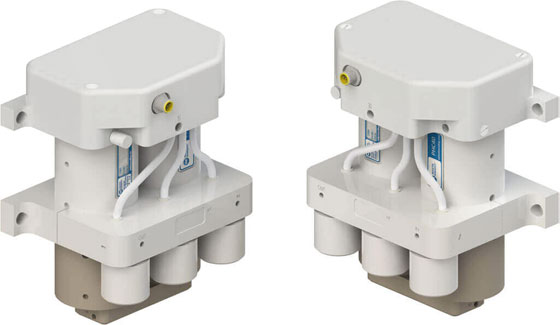 ≤ 60 ml per minute
≤ 40 bar (580 psi) discharge
≤ 7 Bar (100 psi) supply air
Continuous, steady flow
Fully-swept, metal-free flow path
Sapphire, PEEK, PTFE, FFKM or FKM flow path
Pressure-multiplying design
Durable machined design
Robust Bellows Backed by DI H2O
Clean room assembly, testing and packaging
Compact footprint
Easy to install
Operation
PHC40-2 high-pressure pump overlaps pressures between two chambers to eliminate pressure spikes and provide continuous flow. An on-board controller operates air pressure through four internal solenoid valves. The valves route the air to refill each piston and dispense at the appropriate time. The pump multiplies the supplied air pressure by six times to obtain the high-pressure fluid output. An external digital signal is used to turn the pump on/off, and digital outputs are transmitted to enable users to monitor operations.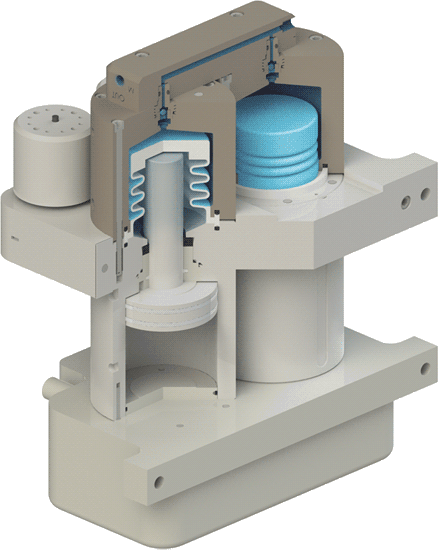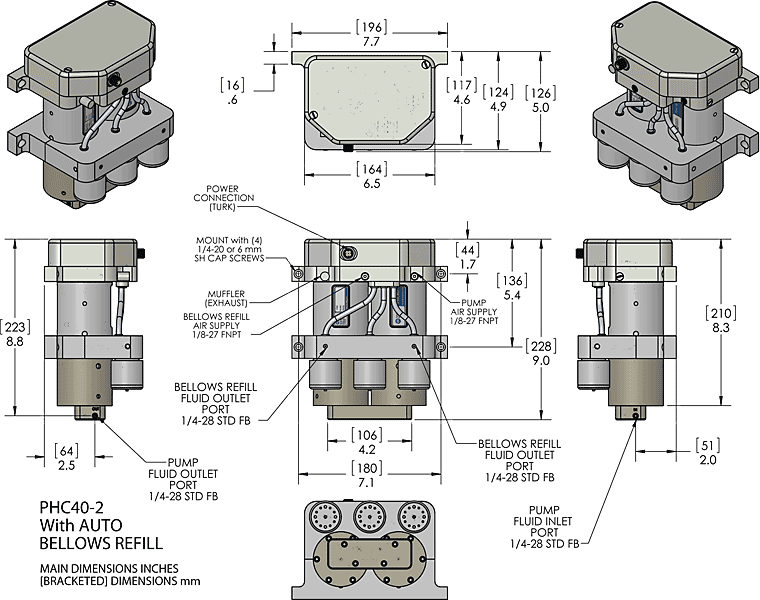 Download PHC40 Dimensions
| Model | PHC40 |
| --- | --- |
| Max Flow Rate | 60 ml/min |
| Max Discharge Pressure | 40 bar (580 psi) |
| Max Air Pressure | 7 bar (100 psi) |
| Max Cycles Per Minute | ≤5 |
| Fluid Connection | 1/4 in-28 flat bottom or M6 flat bottom |
| Fluid Inlet Pressure | 2 bar (30 psi) |
| Fluid Path Materials | Sapphire, PEEK, PTFE, FFKM or FKM |
| Fluid Temperature | 0-80°C (32-176°F) |
| Hydraulic Actuation Fluid | DI Water |
| NEMA Classification | 5 |
| Weight | 1.7 kg (3.7 lb.) |
Solenoid Valves

24V Manifold Valves 0.7 CV

Turk Connector

5 Pin O-ring Sealed

On Board
Controller

Power: 24 VDC
Max Power Consumption: 12 Watts

Internal I/O:
• Four 24 VDC Valve outputs

External I/O:
• One PNP Compatible Input
• Two PNP Compatible Signal Output