White Knight DBU Series Pulse Dampeners
Reduce Pulsation and Increases Batch Yields in Ultra-High-Temperature Applications
DBU Series in-line and top-mount dampeners reduce system pulsation to improve flow control, increase yields, protect components, and minimize downtime for repairs. They are designed for PFU, PSU and PXU Series pumps capable of pressures up to 7 Bar (100 psi) and temperatures of 210°C (410°F).
DBU030 dampeners fit 30 and 60 lpm pumps, and DBU060 dampeners 30, 60 and 140 lpm pumps.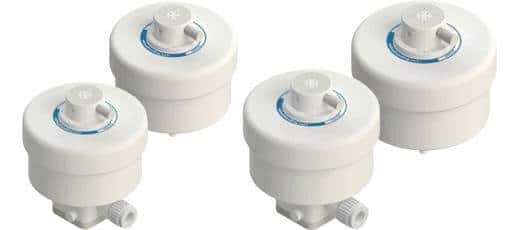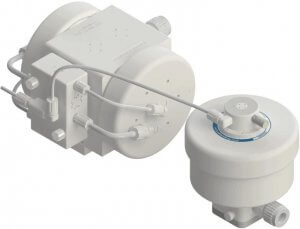 In-line DBU060 pulse dampener with
PSU060 ultra-high temperature pump.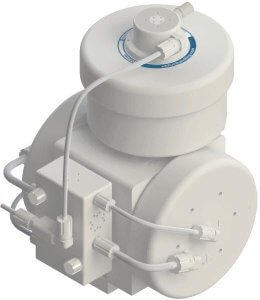 Top-mounted DBU060 pulse dampener with PSU060 ultra-high-temperature pump.
Up to 93% pulsation reduction minimizes system vibration to protect components, minimize down time for repairs, and increase chip yield
Flow-specific models for 30, 60, and 140 lpm pumps
Top-mount and in-line options in various sizes to increase dampening or reduce footprint
Auto-leveling provides constant, active adjustment for more system control and increased chip yields
Dead-head capable operation
Process-safe PTFE and PFA flow paths for harsh applications
Metal-free design provides safe, leak-free operation without possibility of contamination
Minimal parts for durable design
Class 100 cleanroom assembly, testing, and packaging
Easy to install and service
Various liquid connection options
No preventative maintenance during two-year warranty
Select options for corresponding pulsation data.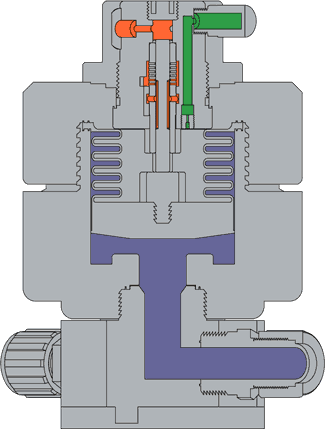 Supply Air Exhaust Air Liquid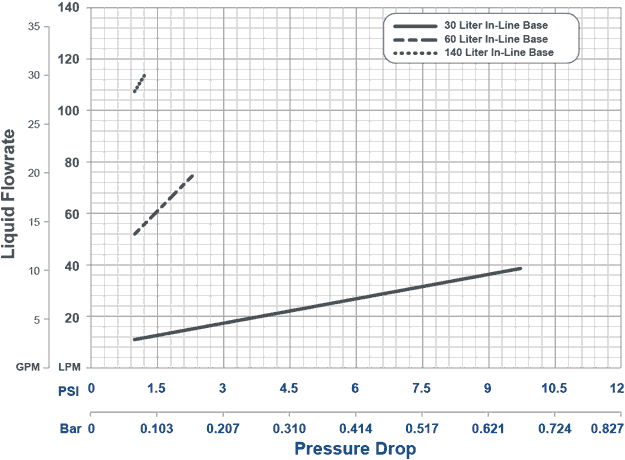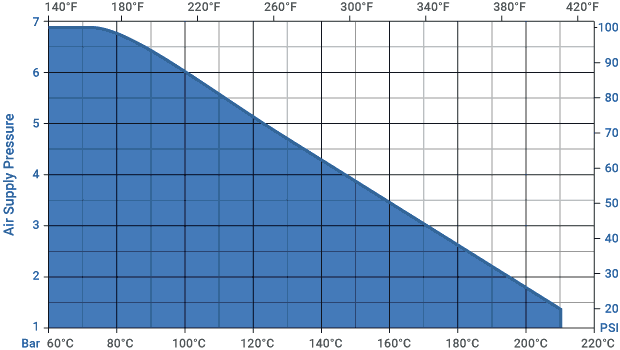 | Model | DBU030 | DBU060 | DBU140 |
| --- | --- | --- | --- |
| A | 140 (5.5) | 196 (7.7) | 249 (9.8) |
| | 211 (8.3) | 220 (8.7) | - |
| | 57 (2.3) | 57 (2.3) | - |
| | 163 (6.4) | 168 (6.6) | 199 (7.8) |
| | 198 (7.8) | 215 (8.5) | 258 (10.2) |
| | 35 (1.4) | 47 (1.8) | 59 (2.3) |
| | 31 (1.2) | 35 (1.4) | - |
| | 13 (0.5) | 13 (0.5) | - |
| | 79 (3.1) | 79 (3.1) | - |
| | 166 (6.5) | 196 (7.7) | - |
| | 51 (2.0) | 51 (2.0) | - |
| | 14 (0.6) | 14 (0.6) | - |
| | 25 (1.0) | 25 (1.0) | - |
| | 40 (1.6) | 40 (1.6) | - |
Model

DBU030

DBU060

Max Fluid Temperature

210°C
(410°F)

210°C
(410°F)

7 Bar
(100 psi)

7 Bar
(100 psi)

≤ 76%

≤ 84%

Compatible Pump Models

Cv (in-line only)
-with I030 base
-with I060 base
-with I140 base


3
14
n/a


3
14
28

Min Air Consumption (SCFM)*

0.2

0.2

Max Air Consumption (SCFM)*

3.5

4.0

Fluid Path Materials

PTFE/PFA

PTFE/PFA

Model

DBU030

DBU060
*Utilizing same size pump at 100 psi / 20 psi