Accuheat™ Quartz In-Line Chemical Heaters
Overview
Accuheat™ chemical in-line heaters consist of ultrapure quartz tubes, wrapped in an Inconel heater element that provides even, conductive heat over the entire area. Alumina Silica insulation is tightly packed to minimize heat loss and the PTFE housing offers chemical resistance and a low surface temperature. Temperature sensors and leak detection devices are included within the housing to ensure safe and efficient operation. For the ultimate in high purity, Accuheat™ quartz heaters can be made of synthetic quartz materials with even lower trace element levels than standard semiconductor-grade materials.
Purpose
Quartz in-line heaters can be used in many applications requiring heating of high-purity process fluids such as acids and cleaning solutions. Traditional applications use the acid in-line heater as part of a recirculation loop, either as the sole heat source or in combination with a heated quartz tank for faster heating and better control. Below are typical installations of quartz chemical heaters: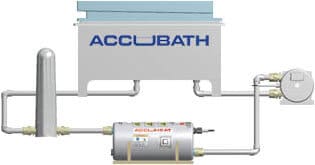 Conductive Heating Element
Many commonly-used chemistries do not readily absorb infrared heat, making infrared heaters a poor choice for some processes. Heaters employing this technology often have maintenance issues and require cooling or a purge to prevent overheating failures. IMTEC chose a special conductive heater element to reduce maintenance and overall cost of ownership.
Quartz Fluid Path
Quartz performs well with almost any chemistry including solvents. Since the fluid path is quartz, IMTEC's in line units can also be used as high-purity solvent heaters. Ultrapure synthetic quartz materials are also available.
Power Modulator
IMTEC's proprietary power modulator ensures that the exact amount of heat for any process is applied- no more, no less. During initial heat-up, the rate of heat transfer gradually decreases with time. When the rate of heat transfer bottoms out, the power modulator turns the heater off, allowing the heat built up in the quartz to disperse into the liquid.
Turning off the heater when it isn't needed means that there is no wasted energy, and no undue stress on components caused by over-heating. IMTEC's proprietary technology ensures minimal heat-up times with an efficient use of energy for any application.
Uniform heating
No purge or cooling required
Easy to install, less expensive to operate
Minimal heat-up time – no energy wasted
Redundant safety features for a safe environment
Zero maintenance
IMTEC reliability with our 40 years of experience
Available in ultrapure synthetic quartz
No lamp replacement
No calibration
No reflectors to clean
No leaks
Self draining
| | |
| --- | --- |
| Heater | ACCUHEAT Quartz In-line Chemical Heater |
| Single | 3.0 KW, 4.5 KW, 6.0 KW, 7.5KW, 9.0 KW, 13.0 KW, Custom Wattage Available |
| Dual | 6.0 KW, 9.0 KW, 12.0 KW, 15.0 KW, 18.0 KW, 26.0 KW, Custom Wattage Available |
| Process Chemistries | Phosphoric Acid, Sulfuric Acid, and more. See material compatibility page. |
| Max Operating Temperature | 180ºC |
| Max Pressure | 40 PSI continuous (@ 150°C Max) |
| Voltages | 208VAC, 240VAC, 400VAC (some models), single or 3 phase model dependent |
Dual-Tube 12 kW
No Manifold
Dual-Tube 18 kW
F-Style Manifold
Dual-Tube 26 kW
H-Style Manifold