White Knight Pneumatic Pressure Regulators
Automatically Control System Pressure Without Additional Circuitry or Feedback
Overview
White Knight forward and back-pressure regulators offer remote piloting capability to maintain system pressure for high-purity chemical circulation loops and systems with multiple tool drops or dispense points. They feature fully-swept PTFE and PFA flow paths. They operate at up to 100°C (212°F) and 7 Bar (100 psi). They are air-spring loaded, highly accurate, and reduce system pulsation. Pressure regulators are available in 1/2-in, 3/4-in and 1-in models — determined by the connection size and outer diameter of the tubing. The flow through, or inner diameter of the tubing, is 1/8-in smaller than the connection size.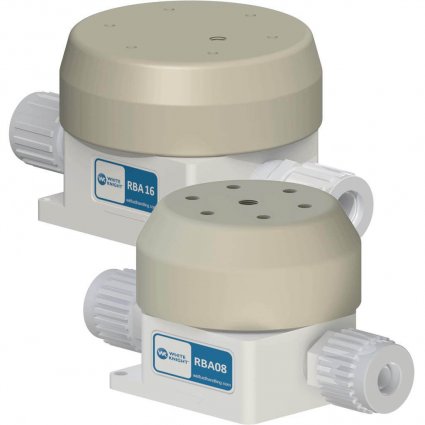 Remotely piloted
PTFE and PFA fully-swept fluid paths
No O-rings or extraneous seals
Metal-free design eliminates potential contamination
1/2 in models have 3/8 in flow-through
3/4 in models have 5/8 in flow-through
1 in models have 7/8 in flow-through
Safe, leak-free operation
Class 100 clean room assembly, testing, and packaging
Various liquid connection options
Minimal parts for durable design
Easy to install and service
No maintenance required during two year warranty
Integral gauge port
Back-Pressure Regulators
A single back-pressure regulator equalizes upstream fluid pressure across multiple discharge outlets.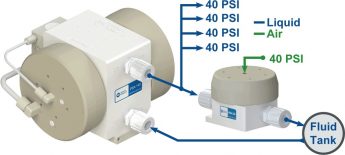 Forward-Pressure Regulators
Forward-pressure regulators control downstream fluid pressure. Each discharge pressure needs a regulator.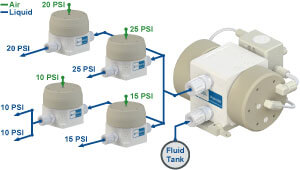 Supply Air
Stable Pressure
Variable Pressure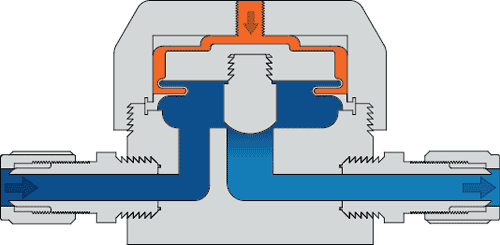 Forward-Pressure Regulators