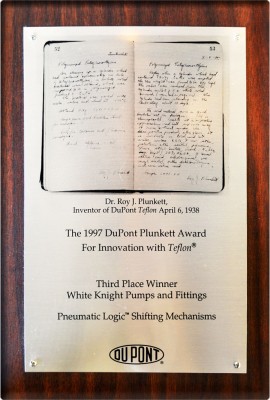 White Knight Innovations with PTFE
White Knight's Pneumatic Logic™ shifting mechanism was announced as the third place winner of the 1997 DuPont Plunkett Award for Innovation with Teflon®.
The Plunkett Award is given to recognize outstanding uses of DuPont™ polytetrafluoroethylene (PTFE) fluoropolymers to create inventive market solutions that benefit the environment, showcase extraordinary innovation, or deliver a market-changing applications.
White Knight's patented Pneumatic Logic™ air system resets shuttle valves to prevent pumps from stalling. The air system does not use detents or seals that can fail or fatigue. Air pressure forces the spool into place at the end of each stroke to ensure shuttle valve spools are never equally pressurized on both sides, which can cause spools to center and stall the pump. Pneumatic Logic™ also slows reciprocating components before shifts to reduce pump vibration and liquid pulsation.