Pumps for Smooth Flow without Pulsation
High-Purity Laminar Flow Pumps for Advanced Chemical Processes

LHA Series laminar flow pumps offer steady flow rates up to 30 lpm and feature process-safe PTFE and PFA flow paths. They are capable of up to 100°C (212°F) fluid temperatures, 5.5 Bar (80 psi) air supply pressures, and suction lift up to 3 m (10 ft).
Laminar flow up to 30 lpm
Process-safe PTFE and PFA flow paths
No elastomer O-rings; never retorque
Reliable operation with leak-free seals
Analog signal stroke detection
Fiber optic and conductivity leak detect
Copolymer check cages minimize wear and extend life
Various liquid connection styles and sizes
Proven robust bellows technology
Air supply pressure up to 5.5 Bar (80 psi)
Dead-head capable operation
Suction lift up to 3 m (10 ft)
Minimal parts for durable design
Durable machined design
Easy to install and service
Class 100 cleanroom assembly, testing, and packaging
No preventative maintenance during two-year warranty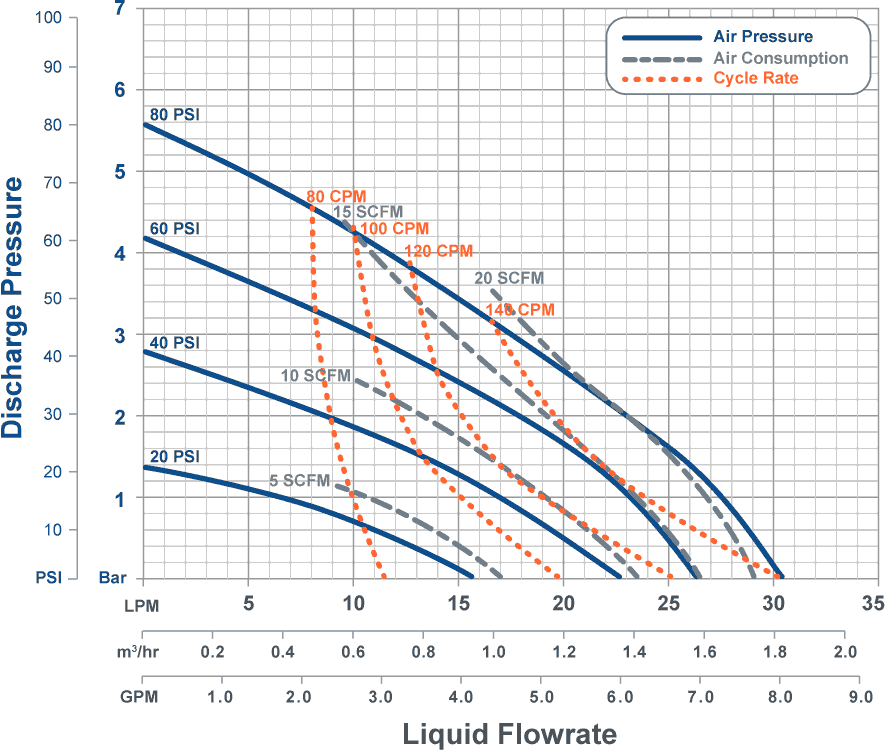 *Graph is for reference only. Performance was measured utilizing 1/2 in (3/8 in ID) air line and 1-1/4 in (1-1/8 in ID) liquid lines with 1 ft flooded suction. Performance may vary in your system.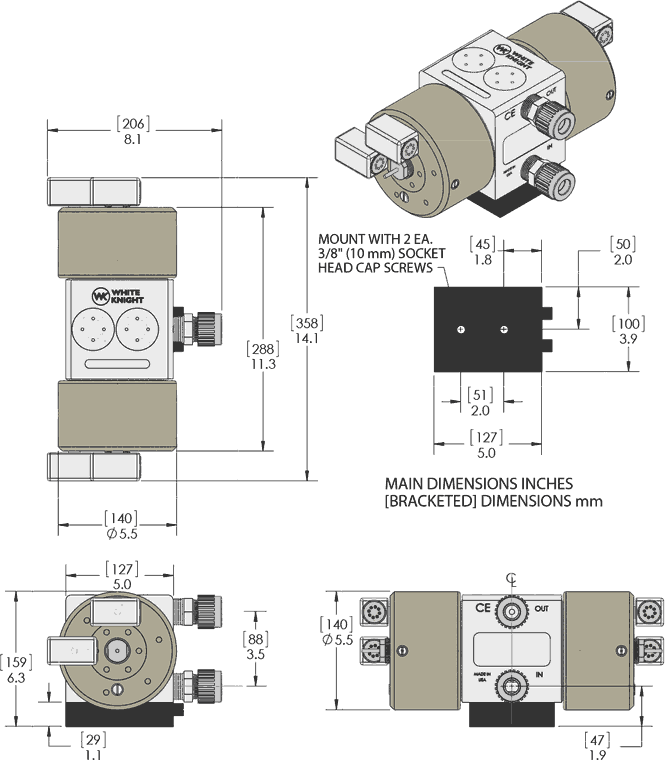 Download LHA030 Dimensions (PDF)
| Model | LHA030 |
| --- | --- |
| Flow Rate* | ≤ 31 lpm (8.2 gpm) |
| Air Connection | 1/4" FNPT |
| Fluid Temperature | ≤ 100°C (212°F) |
| Supply Air Pressure | ≤ 5.5 bar (80 psi) |
| Startup Air Pressure | ≥ 1.4 bar (20 psi) |
| Required Air Volume | ≥ 26 SCFM |
| Suction Lift* | 3 m (10 ft) |
| Fluid Path Materials | PTFE, PFA |
| Non-Fluid Path Materials | PTFE, PFA, PP, Viton, Neodymium, PET-P, UHMW |
| Stroke Detection Options | Hall Effect Sensor (NPN or PNP) |
| Leak Detection Options | Fiber optic with or without sensor, or conductivity |
| Electronic Control | Call for details |
Air Requirements

Air Signals
Two 5-way valves (center vent) or Four 3-way valves (normally closed)
Valves with metal seals are recommended for longer life
Electrical Requirements
24 VDC Power
Power consumption depends on current draw on external devices:
Controller power alone 4 watts
Max Digital Output current (500 mA sourcing or 24 mA sinking)
Max Analog Output current (10 mA total voltage output or 20 mA with 4-20 mA conversion board)
Pump Connections
Four air connections 1/4-in NPT with quick exhaust connectors (one fill and one dispense for each side
Two leak detect sensor connections 1/4-in NPT (one for each side)
Two fluid connections configurable to various tube connections (one inlet and one outlet)
Two analog hall effect stroke sensing
Controller Connections

Digital Outputs

Four solenoid signals
Two stroke rate signals (for tool feedback)
Pump running signal (for tool feedback)
Alarm output (for tool feedback)

Digital Inputs

Remote signal left
Remote signal right
Enable scaled output signal
Retrain pump sensors
Leak detect input
Reset Alarms

Analog Inputs

Two stroke sensors
*May vary depending on configuration. Suction lift diminishes over time. Recommended installation level less than 3 ft above source. Contact White Knight for details.
Request Quote
Request Demo
Locate Distributors