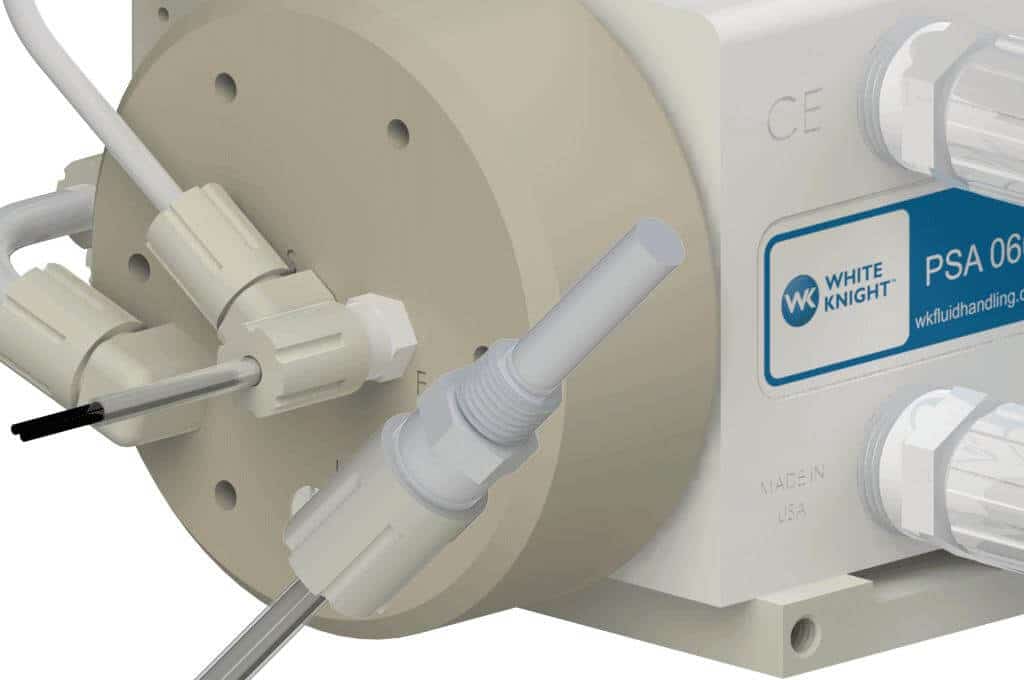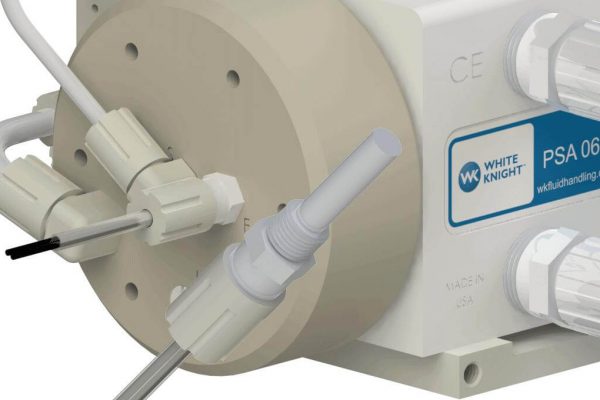 Monitor & Control Pumps
White Knight's stroke detection options enable pumps to be monitored electronically and allow for immediate notifications of changes in pumping conditions. They simplify replacement of other electronically monitored pumps, and may also be used to register pump speed or changes in pumping conditions.
Stroke detection options:
Fiber Optic Dual-Probe Dual-Detect
Fiber Optic Single-Probe Dual-Detect
Solid State Pressure Switch
Dual-Probe Dual-Detect
Fiber optic dual-probe dual-detect stroke detection uses fiber optic sensors on both side of a pump to signal when the pump reaches the end of stroke. This signal may be used to control an electronic shuttle valve, or it may be sent to a computer monitoring the system.
Single-Probe Dual-Detect
Fiber optic single-probe dual-detect is a cost saving version of stroke detection that utilizes a fiber optic probe on one side of the pump which senses two colors of an indicator. The signal is used to control or monitor the pump the same as the dual probe-dual detect option.
Solid-State Pressure Switch
Stroke detection is also available with a solid-state pressure switch that is signaled by a puff of air at the end of the pump stroke. The switch translates the puff of air into an electronic signal, which is sent to pump monitoring equipment.
Other features that allow for electronic monitoring of pumps include Leak Detection.
More Control and Monitoring Systems
Automatically maintain laminar flow or steady pressure. White Knight closed-loop systems feature metal-free pumps with PTFE and PFA flow paths. They provide stable temperatures, dead-head, and suction lift.
Maintain laminar flow or steady pressure
Maintain stable temperatures
Temperatures up to 210°C (410°F)
No metals, no corrosion
No elastomer O-rings, no leaks
No electric motors, no heat rise
Closed-Loop Control Systems
The CPT-1 enables pump swap-outs in existing tools. It operates White Knight pumps at their optimal cycle rate and communicates a scaled operational cycle rate to match that expected by the tool.
Customizable cycle rate scale
Temperatures up to 210°C (410°F)
Compatible with full line of White Knight bellows pumps
Software interface simplifies system setup
Replace Electronically Controlled Pumps!