Certified Training
White Knight provides comprehensive training for all employees and distributors who service pumps. We also offer training programs and certifications for technicians of customers who prefer to service their products in the field.
Request Product Service
Certified Service Providers
Rebuild Training
White Knight staff offer a two-day training program to certify your technicians to rebuild White Knight pumps. Certifications are valid for two years. Parts in pumps that are rebuilt by certified technicians receive a full warranty (e.g. one or two years, depending on model). Training sessions take place at our facility, unless prior arrangements are made with White Knight. Use the form below to request training.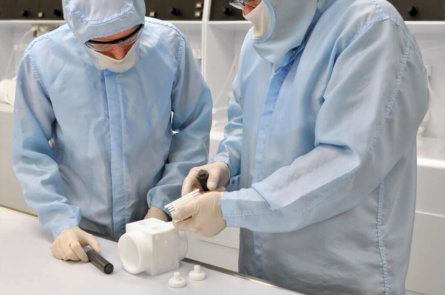 Employee Training
Our training board continuously develops and oversees long-term training systems to benefit our employees, customers and shareholders. These thorough training systems ensure our employees have the ability to perform their duties as efficiently and as safely as possible, and they guarantee our products are manufactured by a skilled, confident and competent workforce. Further, the company also invests in its employees through tuition reimbursement programs, which improve employee morale, reduce turnover, and result in more knowledgeable, better-skilled employees who create great products year after year.